4 Spring Pond Care Essentials Every Pond Needs!!
Understanding Spring Pond Care
Spring is jumping on us quick this year! Before you know it, you'll be enjoying the outdoors and all the wonder and excitement of your beautiful pond again.
That brings us to the topic of preparing your pond for spring. Mother Nature has a fantastic way of preparing her natural bodies of water for each new season by flooding waterways with fresh rains and melting snow, recycling old water out and refreshing it with new.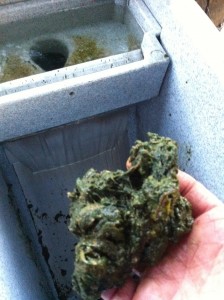 In your rock and gravel eco-system ponds this service needs to be provided manually on an annual basis to help maintain its balance.
This means; you've got to get in there, drain the pond, rinse the gravel, remove any heavy debris that may have accumulated during fall and while you're at it, clean the biological waterfall filter, thin out your aquatic plants, and replace the light bulbs your underwater lighting systems, among other things; all while ensuring the safety of your fish and other pond inhabitants.
Advanced ponds with suped up life support systems including aeration systems, UV clarifiers, Bio-Mechanical filters, Back Flushable Waterfall Filters, bottom drains, settlement tanks and such; the SPRING POND CARE procedures are much less painful and cost substantially less than traditional rock and gravel eco-system ponds. However there are many chores that shouldn't be overlooked like replacing UV bulbs and cleaning quartz sleeves, inspecting air intakes and diaphragms on your air pumps, and the list of to do's and don't goes on.
Four Spring Pond Care Essentials Your Pond Needs Annually!
1. Livestock Evaluation – It's important to take a serious look at your fish population each and every year.
It only takes about three years for a new pond owner to begin putting a strain on a pond's life support system without even realizing it.
In the third year of pond ownership your Koi should start to put on some size (and mass) if you're doing things right.
A 26" Koi can have 8 times the body mass of a 13" Koi. Yes believe it or not, a Koi that doubles in length can put on 8 times the mass!
Imagine the food consumption and waste byproduct produced if all the Koi in your pond were suddenly 26"?
How would that affect your maintenance and water treatment routines?
Much to often a pond owner will continue to do the same routine from day one of their pond, in the 3rd, 4th and 5th year. This is when things can start to go really wrong.
Evaluation your livestock population each spring so you can make minor or major adjustments each year and enjoy your Koi as they mature in to majestic beauties.
2. Water Treatment Evaluation – Beneficial Bacteria, Barley Straw Extract, Algae Fix, Koi Clay, Flocculant, Pond Salt, and the list goes on.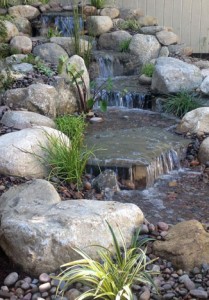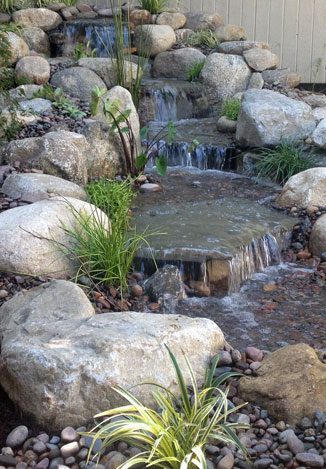 What treatments are you doing and how often?
I've evaluated ponds for clients and have found entire cabinets full of different water treatment products all being used at the same time!
Find clarity in your water treatment selection and in turn find clarity in your pond.
If your pond is heavily populated you might find that increasing your beneficial bacteria doses will help manage your water quality.
You might find that when your Koi attain 18" you can reduce algae care products because an 18" Koi can eat a serious amount of string algae!
Did you know the use a Flocculant or Koi Clay could improve your pond's water clarity in a big way!
Reviewing your water treatment usage each spring is a great way to make improvements in your water quality.
3. Review Feeding Schedule Routines, Serving Sizes and Total Annual Poundage – Give this one some thought; think back to when you pond was brand new when you first populated your pond with Koi.
Do you remember how much fish food you went through in your first pond season? Your Koi where still a bit shy and they we only a few inches long.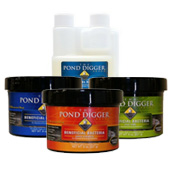 Chances are, you went through a pound or two of food in that first season.
As your pond matures, so do the Koi and in the second season you certainly doubled or tripled that amount of food offerings. Before you know it you are into your third season, your Koi are even bigger, eat much more than last year and to top it off have become sexually active!
By the fourth season your Koi are pushing 2' long and have 50 or 60 offspring swimming around the pond and they're eating you out of house and home.
I actually have a client with a 6000-gallon pond that purchased 250 pounds of fish food last year! That's crazy when you think about it!
It's important to realize massive jumps that can creep up on you and understand the demand this can have on your maintenance and water treatment routines.
4. Life Support System Inspection – Biological filters, UV filters, aeration systems, ion generators, sieve filters, settlement tanks, bottom drains, check valves, knife valves, 3-way valves, filter pads, skimmer nets & pads… Now take a deep breathe!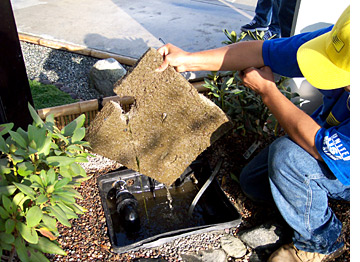 Go about it one step at a time and evaluate each component of your life support system.
Ponds are exposed to a great deal each year with the seasonal changes, population explosions and such.
I've seen bio-mechanical filters so overloaded with pond muck that they barely even worked, and the homeowner didn't even realize it.
Replace UV lamps, repair diaphragms on air pumps, replace old filter pads on your mechanical filters, replace holey skimmer nets and lava rock media bags.
You get the picture now, right?
Do a physical inspection of your life support each spring and rest easy while enjoying your pond the rest of the year.
It's a dirty job, but somebody has got to do it! It's really not as hard as it sounds and for the "Down and Dirty", do-it-yourselfers that are a little nervous, The Pond Digger will be hosting a FREE Spring Pond Care Seminar at our headquarters Saturday, March 25th!
Let us personally walk you through spring pond care procedures and other routine maintenance to build your confidence for this task.
If you don't want to get your hands dirty then have no fear, The Pond Digger has started scheduling work orders for Spring Pond Care and we'll be flooding into your neighborhood soon!
That will leave more time for you to plant your annual spring flowers and prepare for the barbeque Pond Party planning for family and friends; don't forget to send us an invitation, too!
I hope everyone has it figured it out by now; The Pond Digger is not your ordinary Landscape Contractor.
We are fish freaks turned Landscape Contractor, and Landscape Contractor turned Pond Digger! We are constantly striving for excellence in our field with continuous research and development.
This enables us to make educated improvements on our product line, thus helping you with the maintenance and health care concerns of your pond and it inhabitants.
To secure a spot on our clean out calendar contact our office at (800)-522-5043 to be placed on our waiting list. Be sure to leave a daytime number so that one of our maintenance techs can contact you to review your spring POND CARE work order if necessary.
We've worked hard to gain your business and we're working even harder, to maintain it. The finest compliment we could ever receive is a referral from you! If your have neighbors, friends and family that are constantly at your place marveling over your pond, PLEASE give me their names so I can build one for them too and get them out of your hair!
For daily pond pro tips, follow us on SnapChat, Instagram, Facebook, and Twitter
Life is Short, Enjoy Koi!
Eric Triplett
The Pond Digger
Connect with The Pond Digger:
The Pond Digger on Facebook: www.facebook.com/theponddigger
The Pond Digger on Instagram: www.instagram.com/theponddigger
The Pond Digger on Pinterest: www.pinterest.com/theponddigger
The Pond Digger on Twitter: www.twitter.com/theponddigger
The Pond Digger on Youtube: www.youtube.com/theponddigger
The Pond Digger on Snapchat: www.snapchat.com/add/theponddigger