Energy Savings Pond Pumps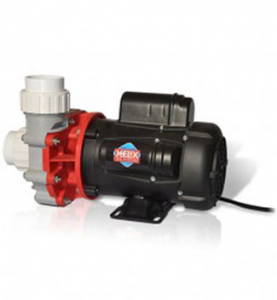 When choosing a pump for your waterscape there is one MANDATORY thing you need to consider. First and foremost; your pond pump needs to be Energy Efficient and rated for continuous duty so you can work run it 24 hours a day, seven days a week without your electrical bill taking the fun out of your waterscape! Choose an Energy Efficient pond pump and you could save up to 50% on the electrical expenses of your pond! These energy efficient pumps listed below can be used to replace most all of the pond pumps on the market today and fit nicely into most every application.
Choosing a pump for your pond or disappearing pondless waterfall doesn't have to be as hard as everyone makes it out to be. Do you have an existing pond with a dead pump? No problem! We can get you back up and running in no time flat! We can even provide you with options if you weren't pleased with the performance of your pump that died.
Are you planning a waterscape for your property and doing some research? Not a problem. We can specify the perfect pump to meet your expectations taking into consideration energy saving, visual appearance, and even audio.
We have made it as easy as possible here so you don't need to be a mathematical genius to pick out a pump for your waterscape. If you have any questions or doubts about the pump you are considering for your feature, call us toll free and we will walk you through your selection.
---
External Pond Pumps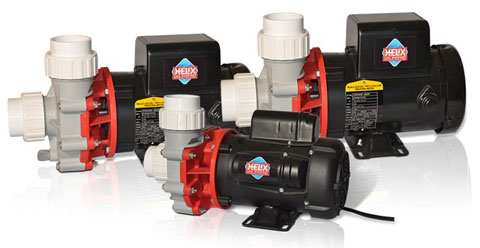 Our line of HELIX ENERGY EFFICIENT External Pumps offer maximum VALUE for pond owners. Submersible pumps have dominated the ornamental pond industry for much too long because the ease installation. Would you believe it if I told you the life expectancy of our Helix external pumps are double that of a comparable submersible pumps? When you install an Helix external pump on your pond you are REMOVING electricity from the pond! Unlike submersible pumps the motors on our Helix external pumps can be rebuilt, impellers can be replaced and the list of pros goes on! Our line of Helix external pumps run next to silent so there's no concern for a noisy pump! Two year warranties are standard, they come with plenty of electrical extension cord and you can pump more water for less money on your electric bill! How's that for energy efficient? So it's a bit harder to disguise in your landscape. 9 times out of ten it's easily done so make the best choice and install an external pump on your pond. If you are currently looking to replace an existing submersible pump, have no fear we will help guide you through the necessary modifications to help you make the transition!
External Pond Pumps
Helix External Pond Pumps are quiet, energy efficient & east to install. They are made to run 24/7 like a koi pond should. They come wired for 115v but can be easily changed to 230v. (except the 3600) An 8′ power cord comes standard.
View the pump chart
Pond Pump Rescue Service!
If you're not sure which pump is right for you, cut to the chase; call our headquarters and answer a few simple questions and we will specify which pump will work the best for your situation. More often than not we can modify plumbing configurations if needed before we ship you the product to make your pump switch out as painless as possible!
Are we replacing a dead pump on an existing pond?
Do you know the Brand and model number of the pump?
Is the pump located in a skimmer? If so, can you tell us the Brand of the skimmer or email a photo of the skimmer box and plumbing configuration?
Are you happy with the current output of the pump?
How high, how wide and how long is your waterfall and/or stream?
Can you tell us about the filters that you are running with the pump?
Pond Pumps Do's & Don'ts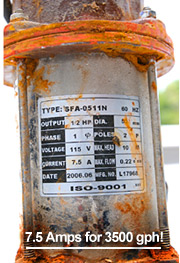 Let's cover an important DON'T right off the bat! Be careful about choosing a cast iron pump for your fish pond! Cast Iron will rust, period! I don't care if the pump is double powder coated and then painted three times; pumps that are made of cast iron at some point are going to rust and that's really not to cool for your fish pond. Now if you have a feature like a Rock Column Fountain or a disappearing pondless waterfall then it's really no big deal. If you can, stay away from cast iron pond pumps for your fish ponds.
There are several Pond Pumps on the market with Floats & Automatic ON and OFF switches are typically advertised as a fantastic option for the pond owner but in reality it should be a red flag to the homeowner! It is advertised that if your pond is running low on water, the pump will automatically shut itself off to protect the motor and save you money. Sounds great, HOWEVER, in reality the pump can be an energy sucking, sewage pump, not even rated for continuous duty and then repackaged as a pond pump. So check the labels for amps and watts! If possible, stay away from pond pumps with floats unless you have a very specific need.
Fish guard intake screens are important to consider if you are installing your pump in the bottom of your pond. Typically, a pump with an intake screen can not handle solids so if you have your pond pump installed in a skimmer box the need for a fish guard on your pump intake is not needed. The skimmer itself can be considered a fish guard considering the water flows through the skimmer net and mechanical filter pad before getting to the pump. Solids handling pumps will greatly reduce your maintenance requirements.
The amount of water flow you can expect from your pond pump is determined by the length, diameter and the height of pipe you are sending the water through. For example, if you have a 3000 gallon per hour pump and you want to send the water 20 feet away & 5 feet high, your gallons per hour will be reduced because of head pressure and pipe restriction. Other considerations when planning which pump to use for your pond are:
What is the total water volume of your pond? Typically, you will want to cycle the total volume of your water one to one and a half times per hour. So if you have a 1000 gallon pond, you will need a 1000 to 1500 gallon per hour pump. However don't forget to take into consideration the length and height you will be sending the water. A 2200 GPH pump will the recommended pump in most cases for a 1000 gallon pond or smaller.
What size pipe are you plumbing your filters and waterfalls with? The smaller the pipe, the less water you can push through the pipe, right? You can't pump 2900 gallons per hour through 1″ pipe. It's simply not possible. There's no need to worry here! We're not going to make a big deal over this. The quality pond pumps and pond filters available today are already configured with the appropriate sized fittings, so as long as you stick to how they have been configured, more often than not you will be golden. If you have a tricky filter system, a tall waterfall, long stream, or any doubt what so ever we will gladly help you determine the correct pond pump and plumbing for you!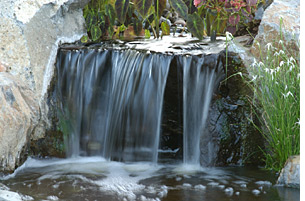 Choosing an Energy Efficient pump for your pond is an important factor, right from the get go. Much too often we run across pond owners that have oversized pond pumps or pumps that are energy hogs! When they finally figure it out, the obvious solution is to turn the pond pump OFF at night. The real problem is; that is a terrible idea for your pond! Filters stop filtering, oxygen levels are sacrificed, algae problems are stimulated and the list of problems goes on. Choose an energy efficient pond pump that will be easy on your monthly electrical bill. It may appear that the initial cost of an energy efficient pond pump is a nice chunk of change but the fact remains, it is the right decision for your pocket book in the long run and is of course the right thing to do for the environment.
Something to consider when choosing a pump for your pond is the speed limit of your filters. Yes, SPEED LIMIT! Sounds funny but it's a fact you must consider. Mechanical Skimmer Filters with 6 inch weir doors can't handle much more than 3000 gallons per hour while 8 inch weir doors can handle up to 7900 gallons per hour! Mind you those are maximum speed limits and max flow rates are just that! Maximum, not optimum! Most U.V. Sterilizers and Clarifiers on the market have speed limits that determine whether the filter works or not. Push too much water through the U.V. Filter and the filter in not working! The manufactures of most Biological Waterfall filters specify max flow rates in their filters NOT OPTIMUM flow rates. Either way you have speed limits to take into consideration. For detailed instruction on your filters speed limits and pond pump selection according to your specific speed limits, feel free to call our office.
| Pumps | Watts/Amps | Volts | Max Flow GPH | Inlet/Outlet Size | Max Head | 8′ Head | 12′ Head | 16′ Head | 20′ Head |
| --- | --- | --- | --- | --- | --- | --- | --- | --- | --- |
| HEX3600 | 227/1.9 | 115 | 3,600 | 2″ | 20.5′ | 2640 | 2100 | 1440 | – |
| HEX5000 | 263/2.3 | 115 | 5,000 | 2″ | 20.2′ | 3840 | 3120 | 2160 | – |
| HEX5800 | 296/2.6 | 115 | 5,800 | 2″ | 21′ | 4500 | 3720 | 2760 | 960 |
| HEX6800 | 376/3.4 | 115 | 6,800 | 2″ | 22.2′ | 5580 | 4800 | 3840 | 2520 |
| HEX8200 | 450/4.0 | 115 | 8,200 | 2″ | 22.3′ | 6720 | 5760 | 4680 | 3120 |