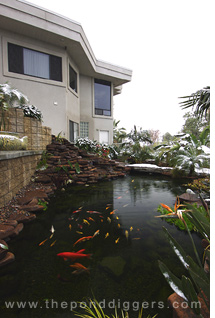 As you know California Waterscapes are exposed to a wide range of weather conditions. A Waterscape in California can experience grueling 128 degree temperatures in the summers months throughout the regions of California's Coachella Valley (Indio, Palm Desert, Palm Springs), while our local mountains, (Big Bear, Lake Arrowhead, Forest Falls) you can expect night time lows well below freezing, in the winter months.
Our California Waterscapes are also exposed to the wonderful weather conditions of our coastal California communities as well, (San Diego, Orange County, Los Angeles) where a backyard waterfall or waterscape never experiences a true winter. Can you just imagine water temperatures that rarely leave the range of 65 to 85 degrees?
There are many different spring pond care and fall pond care routines that need to be modified from the recommended pond care techniques provided by some pond equipment manufacturers and distributors. A perfect example is the fact that the World's largest pond supply company suggests only cleaning your pond once a year, in the spring time.
The once a year pond cleaning is not going to fly for most of California. Let me explain in detail why. You see, the World's largest pond supply company is based out of Illinois, where the pond season only lasts approximately 6 months. So while an annual spring clean out may very well do the trick for States with extreme winters and a short pond season, this once a year clean out mentality, makes for a messy pond here in most parts of Southern California.
Water Treatments for California Waterscapes
In the month of October the entire State of Minnesota has stopped adding Cold Water BENEFICIAL POND BACTERIA to their ponds till spring time, they shut down their ponds for winter and installed deicers to keep their waterscapes from icing over. While sunny Southern California is still enjoying 85 degree weather, feeding koivigorous tropical water lily bloom explosions, sun bathing and earthquakes (Just Kidding!) in the desert communities.
So in October while Minnesota ponds are shut down for the winter and people are inside enjoying Football and the World Series, Southern California waterscapes are being exposed to 3 different temperature extremes. The mountain communities are still going to add cold water beneficial bacteria water treatments for approximately one more month before the water temperature drops below 40 degrees, which is where the cut off is for beneficial bacteria lies.
The Inland Empire communities in Riverside and most of San Bernardino County will use the cold water bacteria throughout the rest of the winter months while coastal communities in San Diego and Orange County may never even need to switch over to the Cold Water Bacteria water treatments because of their wonderful weather conditions.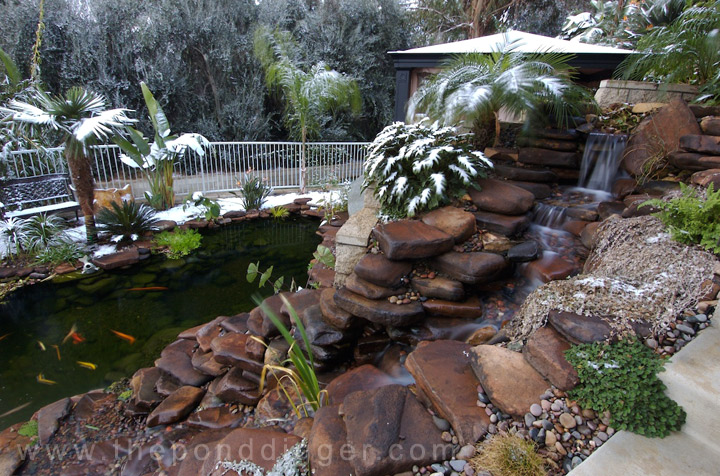 Aquatic Plants for your Waterscape in California
Aquatic Plants in waterscapes throughout California, including backyard waterfalls and pondless waterfalls, can run out of control if not thinned out regularly throughout the year and trimmed back by two-thirds annually.
A surge of new technology in waterscape construction is sweeping across California in the form of a back flushable biological waterfall filters. The reason this pond filter is becoming so popular for the construction of California waterscapes is because the pond filter is so easy to maintain. With our extended pond season here in California cleaning your typical pad and lava rock pond filter three or four times a year is a normal necessity, while the true fish faddicts may require or suggest monthly cleanings.
The Pond Digger Brand Biological Waterfall filters turn a stinky messy job, that would normally take one hour, not including the shower you will certainly want to take afterwards, into a ten minute chore that you could do in your Sundays Best, on the way out the door to brunch.
Where ever you are in the United States, if you have any questions regarding your waterscapes or the retro-fitting your old pond equipment to a back flushable biological waterfall filter, please feel free call us toll free at 800-522-5043.
Happy Waterscaping