Pond Skimmers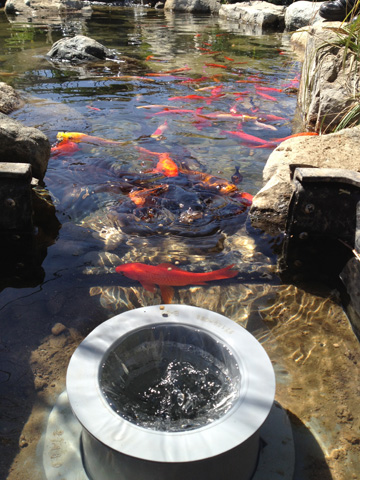 With so many pond skimmers on the market today, which one do you choose? After 20 years in the trenches servicing and installing well over a dozen different pond skimmers, I decided to compile a list of all the pros and cons on a chalkboard for evaluation. In doing so, it became crystal clear I needed to design a new INNOVATIVE product specific to my needs and approach to pond construction.

I wanted a heavy duty, super rugged skimmer that's easy to conceal in the landscape! This skimmer needed to be user friendly for submersible and external pump applications while being super efficient at creating surface tension, capable of handling a great deal of leaf debris and most important, fish safe! With the critical needs identified and a quote from Plato, "Necessity, is the Mother of Invention", I set out to accomplish a goal.

Let me introduce you to The Helix™ Pond Skimmer, the next generation in Pond Skimmers! 35″ Tall x 19″ Wide x 18″ Long – This compact footprint is easy to disguise in the landscape. The Helix can handle a wide range of flow rates from 1500 gph to 8000 gph. With this wide range of flow rates it gives you extreme flexibility in your pond's life support systems and design. Designed for use with submersible or external pump installations, this new pre-filter provides great versatility in pump selection.

The Helix is a fish friendly pre-filter designed for optimal surface skimming. The 12" wide mouth of the skimmer opening leading to the area around the circular weir is a "no trap zone" for your pond fish. The Helix boasts a 15″ circular, self-leveling, floating weir.

This compact circular weir competes with the largest skimmers on the market for optimum surface tension. A full 15 inches of surface tension within a specific diameter and an8″ round x 8″ deep durable Debris Basket give The Helix a vacuum like effect that is capable of capturing a ton of windblown debris and is super easy to clean.

Excellent for all styles of pond construction – Use The Helix for water gardens, koi ponds, lakes and hybrid ponds. The Helix is equipped with Stainless Steel Hardware meaning you'll have no worries about hardware rusting if you need to salt your pond. Whatever style of construction you choose, liner, polyurea or concrete construction, The Helix will exceed your expectations while keeping your fish free from harm.

The Helix Pond Skimmer Pre-Filter is manufactured in the USA with a heavy-duty rotational molded HDPE material – This pond skimmer is SUPER RUGGED, overflow compatible with flat spots on the round body for plumbing an efficient overflow up to 2″ in diameter and is automatic water fill valve friendly. The Helix is roomy enough for the installation of a float valve without your typical issues of malfunction.

The unique design is perfect for AIR LIFT skimming applications. In Fact, you may see Airlift skimmer installations become commonplace for maximum energy efficiency.

Easy to install – Easy to maintain – Easy to see why we believe The Helix Pond Skimmer will set a new standard for skimming ponds. This is what people are saying about our new pond skimmer.

"The Helix Pre-Filter is the most innovate pond skimmer I've seen on the market in the last 6 years!" – Randy Stewart, UnitLiner.com – Shawnee, Oklahoma

"This skimmer is so simple and sweet. I wish I would have thought of it!" – Kent Wallace, Living Water Solutions – Las Vegas, Nevada

"I think you have a real winner in this skimmer!" "I can hardly wait to get my hands on them!" – Mike White, White Water Filters – Batavia, Illinois

"We're super impressed with the performance of The Helix Skimmer on our pond!" "I'm excited to offer this clever & innovative new product to our customer base" "I have no doubt it will meet the demands of the discriminating buyer." – Bill DeBrosky – In Motion Aquatics & Mystic Koi – Upland California

Tip From The Pond Digger – Adding beneficial bacteria to your skimmer weekly is a great way to enhance the biological filtration on your pond.
---
The HELIX Pond Skimmer
| | |
| --- | --- |
| | The HELIX Pond Skimmer created by The Pond Digger. This compact pond skimmer design is perfect for the contractor or do it yourself home owner. Easy to install, Easy to maintain, Easy to see why we believe The HELIX pond skimmer will set a new standard for skimming ponds. Choose The Helix, your fish will thank you for it. |
---
---

Understanding Pond Skimmers
A Pond Skimmers is a MECHANICAL PRE-FILTER with a primary purpose of sweeping your pond's surface of wind blown debris. This sweeping action removes floating solids from the pond before they have a chance to become water logged and sink to the bottom of the pond. Wind blown debris that sinks to the bottom of the pond will otherwise become unsightly black sludge making your water quality bad for your fish and it fuels the rapid growth of unwanted algae! A well designed pond skimmer will come equipped with a large leaf debris basket or net that is easy to remove, clean and replace.
As a PRE-FILTER your pond skimmer should capture neutrally buoyant and floating solids BEFORE your pond pump and biological filter. This action protects your pond pump from getting clogged up reducing maintenance. More importantly your pond skimmer keeps large particulate from your impacting your biological filter. Pre-filtration is important to every pond. Designed and maintained properly, pre-filtration will keep the pond's filter clean of heavy solids allowing the filter to process and convert clear water into clean water.
Frequently on larger ponds the use of multiple Pond Skimmers are planned into the design to provide skimming action from different areas on the pond's edge for more effective surface skimming, especially on ponds surrounded by messy trees. An efficient Pond Skimmer is an essential element needed to reduce pond maintenance, that much is clear. The bottom line is: The Skimmer you choose should be easy to install, easy to maintain and stand the test of time!