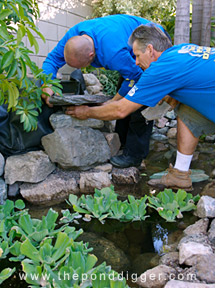 Specializing in Pond Design and Pond Construction – The Pond Digger is building custom designed, low maintenance, ecologically friendly water gardens for fish and plants, but more importantly people! From small residential Tranquility Ponds to Koi ponds and pondless waterfalls to rock column fountains, water gardens to one acre lakes, we do it all. No project is too small or too large. If you are looking for pond design, pond construction or pondless waterfall suggestions, tips and tricks, in need of your water garden pond rebuilt or if you've always wanted a pond, look no further! Call us for a FREE pond construction informational DVD and a POND CONTRACTOR WARNING REPORT. Schedule an onsite pond design consultation today and move one step closer to your pondless waterfall or pond construction date.
We are based in Cherry Valley and service the entire Southern California basin including, San Bernardino, Riverside, Los Angeles, Orange County, Ventura and San Diego Counties. We work with a network of qualified Certified Aquascape Contractors, and Certified Professional Pond Contractors across America. So if we can't help you personally we can direct you to several different companies that will accommodate your pond construction and pond design needs.
Pond Construction Remodels and Teardowns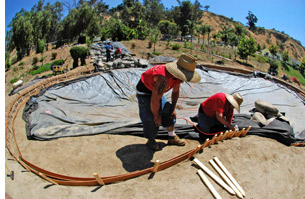 30% of the pond construction performed by The Pond Digger Construction Team are remodels, rip outs, and teardowns. Ultimately, we spent a great deal of our time fixing broken dreams last year. We want the opportunity to teach you how to design your dream pond, pondless waterfall or watergarden correct the first time or have the opportunity help with your pond design and perform the installation for you.
For over a decade through our, Educational Training Advanced Seminars, pondless waterfall classes, California Pond Tours, Ponds for Schools™ programs, and speaking engagements, The Pond Digger has been changing the way the world builds and maintains ponds through these educational and inspirational pond installation classes. We teach children, contractors, and homeowners alike, time and money saving techniques of proper disappearing pondless waterfall construction and pond installation.
Pond Design & Pond Installation Specialist
Pond design is not something that you should just leave up to anyone. Most pond design concepts are done on a whim and what happens is your Koi Pond, Water Garden, Pondless Waterfall, or waterfall system is just hap hazardly thrown into the far corners of your property.
A well-designed pond or pondless waterfall will cost close to the price of a spa or hot tub. So, since you will have a fair investment into your water feature, let's be sure you get the best bang for your buck. A good koi pond design will take these things into consideration:
Will the pond design allow you to see and hear the waterfall from the most frequently traveled spots in your home? (I.E. Kitchen, dining room, family room, bedroom, patio, barbeque area, fire pit. etc.)
Where will your electrical come from?
Do you need a GFCI outlet?
Where will you tie into your water main for the automatic water fill valve?
Is there a hose close by for general pond maintenance?
Where does the water drain when there is a heavy rain?
How many fish will this pond allow me to keep?
How much maintenance will the pond equipment I'm using, need?
Is there underwater lighting in your pond design?
Where do I put the underwater lights for the most impact?
Do I need heavy equipment for the pond installation?
Will my dog jump over the fence if the waterfall is too tall?
Will this affect my neighbors in any way?
What aquatic plants will minimize pond maintenance and maximize enjoyment?
Will the waterfall be loud?
What kind of terrestrial plants will compliment this waterscape?
Whether you are going to build your pond yourself or hire a professional to install, don't leave your watergarden design to chance. Consult with a professional. When it comes to your pond design, get all of your questions answered before you begin. We provide pond design consultations for professional pond installation and for the do-it-yourself homeowner too.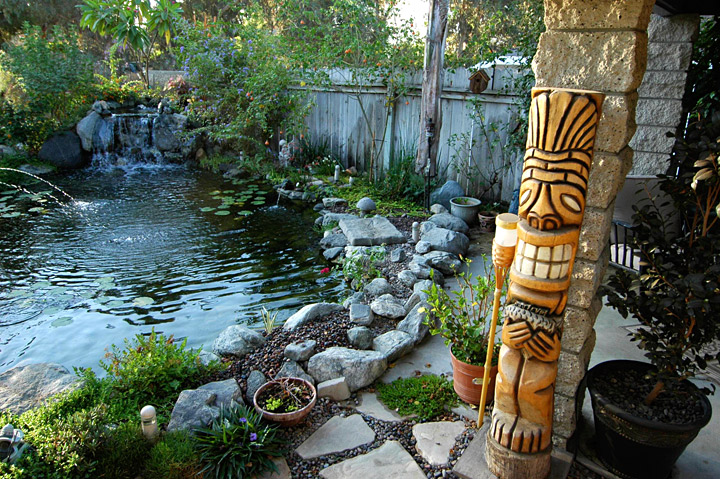 There's Not One Good Reason to use The Pond Digger as your water feature installation specialists, there are FIFTEEN good reasons to use The Pond Digger as your water feature specialist!
We have been the leaders in the pond industry for over a decade educating the public of proper pond installation technology
We Specialize in waterscape design, construction and Koi pond installation
We lead a team of Certified Aquascape Contractors to First Place victory in a National Waterfall Construction Contest
We offer Satisfaction Guaranteed in our work
We have an actual main office storefront & not just working out of our garage
We are Sexy! (I'm just wondering if you're paying attention!)
We offer One-Day surprise your spouse, installations available in several different water feature sizes.
We know our FISH & pond livestock
We have tons of information on our Website
We host 2 Charity Pond Tour Events annually
We have been published in Newspapers and national pond trade magazines on topics related to construction & maintenance
We have a live person answering the phones during regular business hours, not an answering service
We are Authorized Dealers for Helix Life Support including: Helix Slimmers, Helix Waterfall Filters, and Helix Moving Bed Filters.
We are a Certified Firestone Liner Pond Contractor
We sat as an advisory board member for the Certified Aquascape Contractor Program (2003 – 2006)