DIY CLINIC Pond Build
Weekend Warriors Wanted
If you're a DIY Weekend Warrior here is your chance to get your hands dirty and work side by side with us at this DIY Pond Construction Clinic!
If you're thinking about building a pond or in the middle of building a pond, this DIY CLINIC is perfect for you!
LEARN, HAVE FUN, GET DIRTY!!!!
You'll Learn – "What TO Do" and we'll teach you "What NOT To Do"! You'll even learn some things that you had no idea you needed to do!
This is a "Boots On the Ground", "Hands in the Dirt", DIY CLINIC. We will be installing a Helix Life Support Eco-System from start to finish all in one day!
Learn Proper Excavation & Backfill Techniques to save you time and labor
Learn How to Size Your Plumbing and Pump for a Dynamic looking waterfall
Learn Rules of Composition in Waterfall Construction
Learn Waterproofing and Seals so your pond Doesn't LEAK!
Learn How to Repair a hole in Pond Liner!
Learn How to Layout and I'm NOT talking about in a Bathing Suit!
Learn Pond Design for Maximum Impact!
Learn Natural Edge treatment to disguise unsightly wrinkles in rubber liner!
Learn How to Choose the Best Aquatic Plants to embellish your waterfalls! Yes, we install aquatic plants in waterfalls!
Learn How to Install Underwater Lighting in the Daylight!
Learn how to Move Rocks and Not Need a Chiropractor when you're done!
WHAT IS THE FEE?
The fee is simple and affordable considering this DIY CLINIC can literally save you thousands and thousands of dollars.
The DIY CLINIC entry fee is FREE. All we ask for is a "word of mouth" social media SHOUTOUT!
Share a photo from the event on your Instagram page, hashtag #PONDDIGGERDIYCLINIC on all your social media platforms, Instagram, SnapChat, Facebook, Twitter, E-Harmony, Tinder, or whatever you're into these days!
Just tell your friends about The Pond Digger DIY Clinics and our mission to help the world build beautiful waterfalls and ponds! Tell two friends that will tell two friends and so on………
WHAT TO BRING
Your favorite shovel, gloves, and work boots if you want to get dirty. Bring a chair, camera, video recorder, friends, family members, and your dog!
Bring photos of your waterfalls, ponds, goldfish, aquatic turtles and koi to share with other pond enthusiasts! Bring sunscreen and a big brimmed hat or an umbrella to avoid a sunburn or the rain. Bring Some Passion!!!
LUNCH –
We will be providing food and beverage at the event!
WIN FREE STUFF!!!
We will be calling off a raffle every hour on the hour! Win FREE STUFF like Aquatic Plants, Professional Strength Water Treatments, T-shirts, Koi Food, much, MUCH MORE!
DIY CLINIC SPONSORED BY –
Helix Life Support Pond Filtration Systems
Pond, Waterfalls, & Rock Fountain Construction Seminars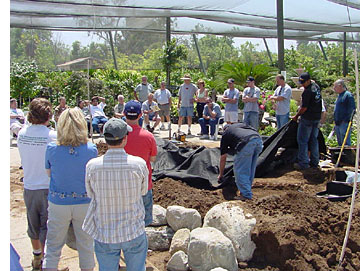 Get your hands dirty and work side by side with The Pond Digger Waterscape Design & Construction Team and Exotic Waterscapes! Learn How to Build a beautiful waterscape and train with the professionals. Learn time and money saving techniques on construction, maintenance suggestions and installation procedures along with a whole bunch more.
We host a variety of different waterscape construction seminars from NEW pond construction using the latest technologies filtration and illumination to pond retro-fit construction seminars where we update old ponds. We host disappearing waterfall construction seminars and Rock Column Fountain installation seminars too so stay tuned for a variety of waterscape construction seminars!
Bring your favorite shovel, gloves and work boots if you want to get dirty. Bring a chair, camera, video recorder, friends, family and dog. Okay, maybe not your dogs! Bring sunscreen, a big brimmed hat or an umbrella to avoid a sunburn or the rain. Ultimately we want you to bring your passion for waterscapes!
Each year The Pond Digger hosts FREE Pond Construction Seminars to teach both do-it-yourself and contractors how to build ponds, rock column fountains and disappearing waterfalls using proper techniques of pond construction, pond installation, waterfall construction and maintenance. Those attending these free seminar events are invited to observe or participate as part of our team. The Pond Digger Construction Team will demonstrate the steps to install a properly balanced ecosystem pond, waterfall, rock column fountain display or disappearing pondlesss waterfall in one day.
Our California Pond Construction Seminars are effective for those exploring the idea of building their own waterscapes or contracting for one to be built. During this quick-paced and fun event, we demonstrate the steps to building a pond and waterfall or pondless waterfall along with timesaving and cost-effective measures to increase the efficiency and beauty of their waterscape.
The California Pond Construction Seminar events are significant for The Pond Digger because it marks a turning point in our business. June 4th of 2000, was our first build a pond construction seminar. The inaugural event was conducted at Newell Nurseries in Yucaipa, California.
How to Build a Pond Seminar
During the How to Build a Pond Seminar event, our team will demonstrate how adding a variety of aquatic plants results in a healthy water garden. We will provide an overview of floating aquatic plants, submerged aquatic plants, and aquatic plants for deep waters and shallow marginal and bog areas.
Aquatic plants not only enhance a water garden's aesthetics, they are vital to sustaining a healthy waterscape. If applied properly, aquatic plants and pond fish help support the natural ecosystem and reduce pond maintenance to only a few minutes a week.
Gone are the days of improperly balanced ponds with their unattractive green algae. By working with Mother Nature, you can make a delightful and tranquil ecosystem with a waterfall, stream, pond and wildlife that creates a haven and backyard vacation.
Over 33% percent of our waterscape construction business each year involves rebuilding poorly constructed ponds or enlarging our existing ponds when our clients become addicted to how enjoyable and easy a pond can be when the proper ecological elements are in place.
It's fulfilling for us to help people create a refreshing waterscape for relaxing and a place to re-energize. It is one of our goals, to help teach do-it-yourselfers proper pond construction, installation and maintenance techniques in order to ensure the success of the water gardening and koi pond industry. When a waterscape is installed properly, Mother Nature can do her maintenance magic and we humans can afford to sit back, relax and ponder the meaning of life.
For more information on Pond Construction Seminar events or to see if you have a site that could be eligible for a Pond Construction Seminar, please call the Exotic Waterscapes Headquarters at 1-800-522-5043.