Pond Clean Out Seminars
Spring is sneaking up on us and before you know it you'll be enjoying the outdoors and all the wonder and excitement of your beautiful pond again. That brings us to the topic of preparing your pond for spring. Mother Nature has a fantastic way of preparing her natural bodies of water for each new season by flooding waterways with fresh rains and melting snow, pushing old water out and refreshing it with new.

In your ecosystem this service needs to be provided manually on an annual basis to help maintain its balance. This means you've got to drain the pond, remove any heavy debris that may have accumulated during fall and winter, clean the biological waterfall filter, thin out your aquatic plants, and replace the light bulbs as needed in your underwater lighting systems, and finally fill the pond back up, all while ensuring the safety of your fish and other pond inhabitants.

If you have had your pond installed or retrofitted with a Helix Advanced Suction Grid System, with the Helix Moving Bed Waterfall Filter, then the need to remove your fish and drain your pond, should be a thing of the past! Your SPRING POND CARE procedures will be less painful and cost substantially less than those with the traditional lava rock and pad waterfall filters.

For those that must perform the spring pond care, it's a dirty job, but somebody has got to do it! It's really not as hard as it sounds and for the "Down and Dirty", do-it-yourselfers that are a little nervous, The Pond Diggers® at ExoticWaterscapes hosts Annual Spring Pond Care Seminars. Let us personally walk you through a spring pond cleaning out and other routine maintenance to build your confidence for this task. Call for info on the next cleaning seminar. 

For all others, have no fear, Exotic Waterscapes has started scheduling work orders for Spring Pond Care and we will be flooding into your neighborhood soon! That will leave more time for you to plant your annual spring flowers and prepare the barbecue pond party  for family and friends.

Exotic Waterscapes is not your ordinary landscape contractor that installs fish ponds.  We are fish freaks turned landscape contractor, and not landscape contractor turned pond installer!  This means we will help you get the best quality water, with amazing water clarity, so you will have happy, healthy fish.  We are constantly striving for excellence in our field with continuous research, to make your pond better than ever. This enables us to make educated improvements on our product line, which helps you with the maintenance and health care concerns of your pond and it inhabitants.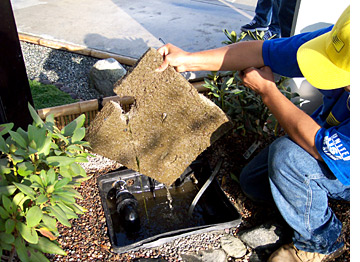 The Pond Digger Waterscape Design & Construction Company has our very own line of PROFESSIONAL STRENGTH water treatments, to use on your pond after  the spring cleaning. Yes that's right, The Pond Digger brand! We have professional strength Beneficial Bacteria, in Cold water formula, for spring, fall and winter, all season formula for summer, and super strength formula, for those ponds that have a very heavy fish load, or an exceptional debris load.  Used properly throughout the year, these beneficial bacterias greatly reduce the debris in your pond because they actually help to break the debris down, and consume it. 


We also have The Pond Digger brand premium fish foods for your koi and goldfish, with and cold water formula, for spring, fall amd winter, all season formula, for summer, growth formula, for young koi, and color formula to help bring out the reds, blacks, and oranges on your koi.

After you fill your pond back up, but before you put your fish back in, use The Pond Digger liquid or dry dechlorinator, to break down chlorine and chloramines.  This keeps your fish safe from chlorine or chloramine poisoning. 

Our highly concentrated The Pond Digger Barley Straw Extract, helps with undesirable algae, and The Pond Digger Rock and Waterfall Scrubber, help break down string algae, to keep your pond looking pristine and beautiful after the spring cleaning.  

All of these products are the same professional strength products that we use when our team is working on your pond, so you can trust they will work as well for you as they do for us. 

To secure a spot on our clean out calendar contact our office to be placed on our waiting list. Be sure to leave a daytime number so that one of our maintenance techs can contact you to review your spring clean out work order if necessary. Pond clean outs scheduled after April 30th at the pond owners request will be subject to other fees.

We've worked hard to gain your business and we are working even harder, to maintain it. The finest compliment we could ever receive is a referral from you! If you have neighbors, friends and family that are constantly at your place marveling over your pond, PLEASE give us their names so we can build one of our beautiful custom water features for them too!
Please Call our Headquarters @ 800-522-5043 for Seminar Schedule!!