Do It Yourself Pond Kits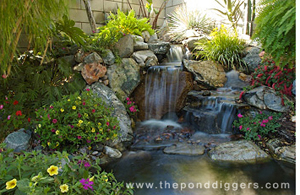 Yes, you can build a beautiful pond and waterfall just like a professional, with one of our pond kits! Our pond kits have all the goods you need to get the job done. All you need to supply is rocks, gravel, water and some muscle power! We will even help you on decide how much material in rock & ornamental gravel you will need to tackle your pond project if you need. The pond kit systems we offer, Helix Life Support Filtration Pond Kits that are equipped with professional pond construction equipment and were developed with the Do It Yourself Pond Builder in mind.
These pond kits were assembled BY professional pond builders, FOR DO IT YOURSELF pond builders! No running to the hardware store to pick up more supplies during your build! The awesome thing here it is, if you want to know how to build a backyard (or front yard) pond, these pond kits have taken the guesswork out of the construction process and once installed, the waterscape not only touches your life in so many different ways, but with the proper planning your water feature can be extremely LOW MAINTENANCE!
These kits (Easy Pro Pond Kit Systems and Helix Life Support Pond Kits) are loaded with high quality pond supplies and were packaged for the professional pond installer in mind to make installing ponds & waterfalls, smooth & easy! In fact we have made it so easy, that DO-IT-YOURSELF pond installers are becoming professional pond builders daily. Seriously, that's no joke! It's all about the pond kit!
The pond kit has evolved from many trips back and forth to the hardware stores into, complete pond kit systems packaged into one or two boxes containing the proper sized biological filter, pond skimmer, pond pump, plumbing supplies, waterfall foam, do-it-yourself pond installation instructions and all of the other miscellaneous pond supplies needed, pre-determined & calculated then, shipped right to your door! With our pond kits and technical support, the average homeowner can build a pond or water garden in as little as just one weekend.
---
Pond Kit Systems
Everything You Need to Build a small Professional Grade Pond is right here, all boxed up and ready to go! Our preferred product line offers top notch quality pond construction equipment, used by professional pond installers all across America! High quality plumbing supply components, energy efficient pump, Helix Life Support, 45 mil Firestone liner and fabric underlayment come standard in all of these kits! Complete with a comprehensive instructions to help you along the way.

The Pond Digger Preferred "Mini pond kits" come with an energy efficient Mag Drive Pump which comes standard with a three year warranty! These roto-molded skimmers and waterfall filters can withstand the most extreme weather conditions from deep ground freezes to the extreme triple digit heat waves in the deserts.

The mini pond kits are perfect for the home owner that wants to tackle a do it yourself pond installation project with professional pond equipment. These contractor grade mini pond kits include everything the larger pond kits include except an underwater light kit, bacteria or waterfall foam to keep the price just right for the home owner or pond builder on a tight budget. The Pond Digger Preferred Mini Pond Kits are available in sizes from 4′ x 6′ to 8′ x 11′. These mini pond kits are compact and can be shipped via UPS or Fed Ex.

All of The Pond Digger Preferred Medium & Large Pond Kits include Helix waterfall filters, the Helix pond skimmer, larger, yet still energy efficient, pumps, waterfall foam ,and underwater lighting system. These biological filters, skimmers and energy efficient pumps have been specifically sized appropriately for the specific dimensions of the pond, to help you eliminate the guess work.

If one of the following prepackaged pond kits below does not fit your needs, please let us know — we can custom design a kit to fit any waterscape design. The Pond Digger Preferred Medium and Large Pond Kits are available in sizes from 6′ x 6′ up to 21′ x 26′. Due to the size of the waterfall filters in these kits, all medium & large pond kits must ship via motor freight.

If you are unsure of which pond kit is right for your project, please feel free to call us toll free at 800-522-5043 for technical assistance and support. These biological filters, skimmers and energy efficient pumps have been specifically sized appropriately for the dimensions of the pond kits, to help you eliminate the guess work. Simply measure the maximum length and width of the pond you wish to build and the rest is done for you. We offer contractor pricing for landscape professionals.
---
Helix External Pond Kits
Our Helix Pond Kits use the same quality parts & American made Helix filtration equipment that our professional team installs everyday. Check out our Helix Pond Design Guide for ideas!

You can choose a Helix External Pump kit which includes a quiet, energy effecient, longlasting Helix External Pump. If you would prefer, we also have a Helix Submersible pump; a long lasting direct drive pump that handles solids, runs quietly, and has a two year warranty! These pumps have a 3 year warranty and are also rebuildable.
---
Helix Submersible Pond Kits



Our professional grade Helix Life Support Submersible Koi Pond Kits feature much more than your typical pond kit. Our Submersible Koi Pond Kits are designed for the more serious fish enthusiast. These specialty kits take you well beyond the living aquatic ecosystem pond that is offered by our other Helix pond kits. Helix Life Support waterfall filters are a standard designed in our submersible kits to minimize maintenance and offer the ease performing water changes for maximum fish loads. An aerator system is included in our Submersible Koi Pond Kits to provide optimal water circulation in your pond. We have calculated enough liner in the pond kit to allow you a greater depth in your pond; up to 30″ deep. Check out our Helix Pond Design Guide for great ideas. Our Helix Submersible Pumps come with a 3 year warranty!

Of course our specialized kits come with high quality 45 mil EPDM rubber liner, Helix Life Support Waterfall filters that are roto-molded to withstand long term exposure to the elements, the outdoors, and the Helix skimmer. Energy efficient pond pumps come standard along with professional grade plumbing supplies, a low voltage underwater lighting system, an aeration system, U.V. Clarification Technology and a complete line of The Pond Digger Brand Water Treatments and a bag of The Pond Digger Brand ALL SEASON Koi fish food.

The Pond Digger Submersible Koi Pond Kit are custom designed to fit your exact needs and pond dimension specifications" Call Toll-Free at 800-522-5043 for a quote. Please call so we can design for you.

A Helix Bio-Mechanical Waterfall filter that actually allows you to clean the filter with pond water at the turn of a valve!
A Helix Skimmer that features, Stainless steel hardware, a large leaf debris basket that can be cleaned quickly and easily!
A Pond Pump
Professional Grade Plumbing fittings and PVC POND Flex Pipe
45 Mil Firestone EPDM Liner
Geotextile Fabric Underlayment
Professional Grade Aeration System with weighted airline
U.V. Sterilizer System
Installation Kit
The Pond Digger Underwater Pond LED Lighting System
Underwater Light Transformer
The Pond Digger Brand Water Treatment Package
The Pond Digger Brand All Season Premium Koi Fish Food
---