How to Build a Fish Pond
If you want to learn How to build a Pond, front yard or backyard waterfall or if you would rather just hire a professional to build it for you, you're in the right spot. The Pond Digger is dedicated to the highest level of customer service and committed to support both the do it yourself homeowner/pond installer and the prospective pond buyer, make the right decisions in "pond design" and pond construction. The Pond Digger hosts several Pond Construction Seminars and Ponds for Schools events to help educate the community on the proper care and installation of waterscapes.
How To Build A Pond, seems to be a frequently asked question in today's day and age, what with Extreme Home Make Over, HGTV, P. Allen Smith and all of the other "Do-It-Yourself" television programs that are flooding our airways.
At The Pond Digger we specialize in the design and the building of low maintenance, ecologically friendly waterscapes for fish and aquatic plants but more importantly, for people. Anything is possible with water; Backyard waterfalls, front yard waterscapes, disappearing or vanishing pondless waterfalls, above ground ponds, indoor ponds and more.
The Pond Digger is not just your average Landscape Contractors, we want people to succeed in do-it-yourself projects as much as we want to build a pond for you. We firmly believe every pond design that goes in the ground CORRECTLY is an inspiration to all of our senses and helps develop our wonderful pond and water garden industry. This should be evident in the educational content we are providing here on our waterscapes website.
Once you finally decide that you want a beautiful waterscape to come home to, the next step is to come up with a pond design that works for you. This pond design can be a front yard waterscapes with curb appeal or a Backyard Waterfall creating your own private get away. If you want help with your pond design we would love the opportunity to help you with your design. We offer pond design consultations for both do it yourselfers, pond builders and for those looking to contract the waterscapes to be professionally installed.
If you are a Do it Yourself pond installer
we can evaluate your perspective pond design and help you customize a pond kit to fit your waterscape or if you need help designing something to fit your property, we would love to help you. Get your hands dirty with us and let us teach you how to build a pond, personally at one of our Pond Construction Seminars or you are welcomed to visit our pond construction warehouse facility and connect with a team member from the tech department.
Okay so let's get to it. You've made the decision to get a water feature, you have a pond design and you have done some research on "How To Build A Pond", the next decision you need to make is…………..
Build the waterscape yourself?
Have it done, professionally?
It's a huge decision.  I mean, you're a studly, buff individual, a craftsman with some major creativity! Can you think of a reason why you couldn't or maybe you shouldn't install this pond design by yourself? With your own two hands or with a group of your buddies? Well, let's have some fun, give it some thought and maybe shed some light on the topic.
10 Reasons To Hire A Pro For Pond Construction…
In your daily job you're a C.E.O., operating a major corporation.  YOU ARE NOT A PROFESSIONAL IN POND DESIGN OR WATERSCAPES!

You're forty something years old, overweight and the closest you have been to working out in years is going grocery shopping. Building backyard waterfalls looks like serious manual labor!

You're a consultant by day and you demand $75 bucks and hour.  If you can contract this pond design & installation, with a professional for only $65 bucks hour then you will be ahead. In fact, just think about it, if you build the pond yourself you could be losing money!

You have been told that you will save at least a couple thousand dollars by doing this project yourself. However, by the time you add in the cost of the extra chiropractor visits, extra tools you will end up purchasing that you may never use again, the time spent away from your family, and the clothes that you will undoubtedly ruin, that savings will be a lot less than you think! Not to mention you will most likely be working on this project on the weekends and isn't that gonna interfere with football & baseball season!

If you've done your research on "How To Build A Pond", you certainly know that a pond design slash pond construction specialist team can knock out your pond design in as few as one or two days without damaging any existing landscaping!  You want immediate gradification. You and I both know this waterscapes project is gonna take most do-it-yourselfers a few weekends. That is if you do everything right the first time, your buddies don't let you down and someone else does the cooking for the next few weekends.

You do all the cooking for the family and if you are working on the pond, that means your spouse will be ordering take out fast food and that would not be good for your diet.

You still haven't painted the trim in the kitchen from your last do-it-yourself project and that only entails lifting a can of paint, NOT SEVERAL TONS OF BOULDERS! Leaving the pond design and pond construction to a professional would give you the time to finish the kitchen.

You'd rather be shopping, fishing or frankly, have needles inserted under your fingernails than build a pond!

You have a low pain tolerance!

You don't work well under pressure and let's face it, you have a deadline! In todays fast pace lifestyle you must have a deadline. You want the pond design completed for The Wedding, Thanksgiving, before THE PARTY, in time for the surprise anniversary celebration, for the family reunion, in time for summer and the list goes on and on!
On The Flip Side of Pro Pond Design
One the flip side, maybe this description isn't you at all! What if you're not a C.E.O. or a pencil pusher, not out of shape and love working outdoors? If your everyday work clothes consist of a pair of construction boots, a pair of dickies and a t-shirt then you're a completely different animal! Taking on a pond construction project is right up your alley then we don't want to leave you out of the equation! We have comprised a top 10 list for you too……………
Top 10 Reasons To Build A Pond Yourself…
You don't even care about saving money! You just want to build the pond yourself to say you did it.

You earn $65 bucks an hour, so you won't really be saving money by hiring the so called professional pond builder.

You're handy and have no problem following directions. Even if you get stuck on a pond construction step, you have no problem with picking up the phone and calling The Pond Digger tech department to get back on track, so you will NAIL this pond design the first time!

You don't have any deadlines and even if it takes you all summer, just so long as you can say you did it yourself

You don't do the cooking anyways!

Your exercise of choice, is working in the yard & you have a high tolerance for pain!

You love to work hard and you need work on your tan anyways!

You're a planner, you love designing and building things. So even if you get this right the first time, or the twenty-first time it's inconsequential because you may even start your own pond construction company and you want the experience.

You're a master gardener. Your yard is YOUR MASTER PIECE and you don't want anybody else's signature on it.

Your family has built you up so much to convince you to do this project yourself, you just don't have the heart to let them down by hiring a professional pond designer!
If you're looking to have a professional build a pond for you then look no further. Pick up the phone and contact our pond construction headquarters and ask about our Pond Design Consultations.
On the other hand, if you are the do it yourself pond designer then hop to it. Have no worries you'll do just fine and you can lean on the tech department of The Pond Digger to walk you through any tough parts of the pond construction. Even if the pond takes several weeks to build, you're gonna have a great time and the experience will last a lifetime. When it's all said and done, heck you could officially call yourself a Pond Digger! Welcome to the wonderful world of water gardening.
If you are a do it yourself pond design kind a person and would like to build your own waterscape, visit our secure online-store or call our pond construction headquarters and don't forget to find out about our FREE TO THE PUBLIC Pond Construction Seminars.
We provide free pond construction support to all of our customers, you can contact us toll free at 800-522-5043.
Learn How To Build A Pond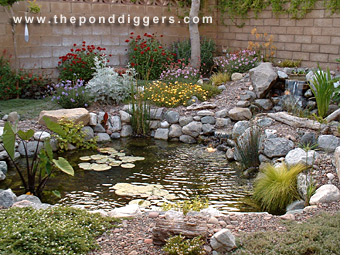 If you're a do-it-yourself pond builder that wants to learn "How To Build A Pond" and wants everything to create a pond, pondless waterfall or Koi pond in one simple package, then we have got two words for you? Pond Kit!
Or, are you just more comfortable in buying a professional grade system yourself and have a contractor to install for you, using the pond construction equipment you have done the research on? Think about it, once the pond contractor has installed you pond, you will be the one that maintains the system, so why not make it easy on yourself? There is no doubt you will want something easy to maintain that will last you a lifetime! We've got complete disappearing pondless waterfall kit systems, Hybrid Koi Pond Kits and drilled Rock Column Fountain systems, that are easy to install but more importantly, easy to maintain.
When you purchase The Helix Life Support Professional Pond Kit Installation System with the Helix Bio-Mechanical Waterfall Filter and the Helix Pond Skimmer or pondless waterfall kit you will get everything you need but the rocks, gravel, wheel barrows, shovels and okay, yeah the water! You'll get a fish-safe EPDM Rubber liner that will last you YEARS ON END, a HIGH EFFICENCY Pond Pump that has actually be designed for water gardens and not a low efficiency Helix sump pump that will rust out on you or fail prematurely! The filter media that we offer in The Pond Digger Brand Hybrid Pond filters is critically acclaimed by the Koi industry. The Pond Digger Brand Hybrid Koi pond kits and pondless waterfall kits lists all the equipment you'll receive in your shipment. If you are wondering how to build a pond, check our individual pages on the education of ponds and rest reassured, you will be getting the same professional equipment our pond construction crews use in our clients waterscapes.
"If you don't see exactly the hybrid Koi pond kit or pondless waterfall kit you want, contact us and we can customize anything you want to fit your needs."
If you're dying statement is: "I wish I knew how to build a pond?" If you are a do-it-yourself kinda person, don't forget to check out our Pond Construction Seminar classes. You will learn everything you need to know about how to build a pond or pondless waterfall systems, by working side by side with our professional pond construction crew, The Pond Digger, Inc. We will take a pondless waterfall kit, or hybrid koi pond kit depending on which Pond Construction Seminar class we are teaching and turn it into a beautiful waterscape in eight hours or less!
Our Pond Construction Seminar Classes are free to the public and everyone is invited. Homeowners, Moms, Dads, children, Contractors, Certified Aquascape Contractors, dogs (okay maybe not your dogs) but seriously – everyone is invited, open to the public. Take the Pond Construction Seminar class, purchase our pond equipment, and in no time flat, you will know how to build a pond and you'll have your very own, peaceful waterscape to call your own!