Disappearing pondless waterfalls are perfect for people who travel a lot.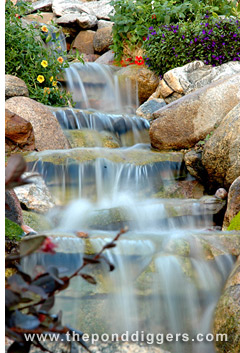 If you have a vacation home that you visit seasonally, like in Palm Springs, California or Big Bear and Lake Arrowhead in the Mountain communities, and don't want to worry about fish while you are away traveling but would still love to have the look and sound of a waterfall, then look no further.
We've noticed landscape architects are sketching dry creek beds into many of their landscape designs more and more. Imagine all of the once dry creek bed made into live creek beds with this awesome construction concept. This low maintenance pondless design has enabled homeowners wishing to add curb appeal to their homes with a waterscapes minus the liability, with a disappearing pondless waterfall.
Bob Gaunt a Redlands local, pool contractor says, "I struggled with my front yard until I stumbled across the disappearing pondless waterfall concept. I wasnít sure what I wanted out of my front yard, I just knew I wanted something out of the ordinary; extraordinary!"



Pondless Watergardens, Waterfalls and Ponds For Schools:

Pondless waterfalls can be activated by an electrical switch just like a water fountain. Pondless waterfalls are for more than just backyard waterfalls, they are perfect for schools, businesses and those who want a front yard waterscapes, travel frequently or have young families.
Pondless waterfalls are created under Exotic Waterscapes Ponds For Schools program. Students join The Pond Diggers to build a disappearing waterfall in one day. These curriculum-aligned, outdoor classrooms enhance academics by providing hands-on, year-round learning opportunities and are aesthetically pleasing.
According to Mariposa fourth-grade teacher Margee Fuller in Redlands California, who serves as the schools lead garden teacher, "Exotic Waterscapes and The Pond Digger's backyard waterfalls literally bring our science and California history alive in our studies on ecosystems and the Mission and Gold Rush eras."



Pondless
Now, for those of you who want a backyard pondless waterfall or waterscapes, but arenít sure about a pond, thereís the pondless waterscape. This unique waterscapes system includes the waterfall, stream, rocks and gravel, and aquatic plants -- all of which you would normally have with a pond -- but without the pond and fish.
Itís called a disappearing pondless waterfall because the water level never pools above the level of the rock and gravel fill, giving it the appearance of a disappearing waterfall and stream. The water is captured in an underground basin, which houses the pump equipment, and is lined and filled with rock and gravel. The pondless pump chamber is strong enough to support 10 adults!
The water is circulated from beneath the rocks and gravel by the concealed submersible pump and travels through an underground pipe to the waterfall, down the stream and empties into the pondless basin.
The pondless waterfall is virtually maintenance-free. It may be set to run on a timer and have an auto-fill to replace evaporated water. There is no ecological need to run the pondless waterfalls energy-efficient waterscapes system continuously, versus a pond, which is a living, breathing ecosystem that needs constant oxygen, just like humans.