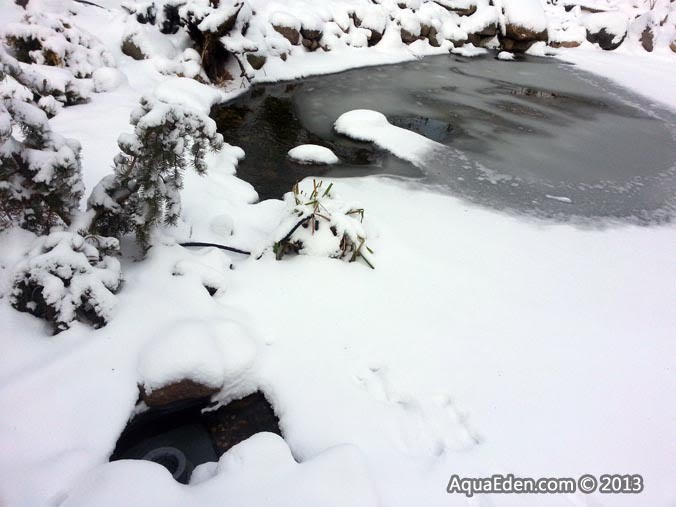 5 Simple Steps To Prep Your Pond For Winter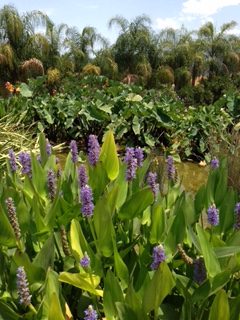 WINTER PREP
Winter is coming. That chill is in the air, crockpots are coming out of cupboards, and the barbecues are getting packed away. People are thinking turkey, sleigh bells, and "Auld Lang Syne".
The pond plants are fading, turning brown and melting away for their winter slumber. Koi and goldfish are slowing down, parked on the bottom of the pond, dreaming of warmer days.
Before we get too far into winter, here are a few tips to help prepare your pond for a simpler seasonal transition next spring.
TRIM BACK ALL PLANTS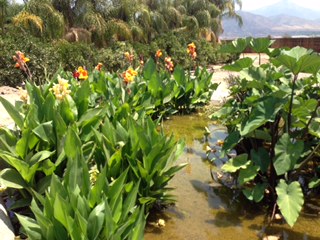 As the plants begin to turn brown, and their leaves fall in to the water, they are brewing up next spring's algae. Make your life simpler by cutting back all the summer plants before they die back.
Trim off all the remaining leaves and toss them in to your mulch pile. Leave the pots submerged, and your favorite blooms will be back in full force come spring time.
EMPTY THE SKIMMER BASKET
Fall is the most challenging time for your pond. Leaves dropping non stop can fill your pond with debris.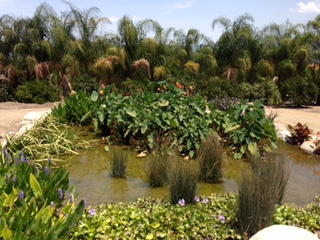 Make sure you are cleaning your skimmer basket daily during fall, and remember to check a couple of times weekly during winter to keep your skimmer working at it's best.
Until your trees are bare, adding a net cover to help with severe leaf drop is a great idea, and can help reduce your work load, and keep your skimmer from clogging.
CLEAN THE FILTERS
Make sure your filters are clean and pristine before winter. Even if your are in a climate that doesn't freeze, you are probably not as likely to spend as much time tinkering with your pond as summertime months allow.
It is especially important if you have to shut your pond down for winter, to clean the filter out thoroughly before you close it down.
All that debris that the filter has so diligently captured, will harden into your media over winter, and then begin to decay next spring when the filter is running and it gets wet again.
That freshly released decaying debris will cause excessive ammonia and nitrite in your pond, causing a ton of undesirable algae to pop up next spring.
TREAT WITH BENEFICIAL BACTERIA
Before your water temperatures drop below 60 degrees, make sure you do an extra heavy dose or two of beneficial bacteria.
This will help eat down any debris that has settled in to your rocks, gravel, or planting media.
When spring rolls around, these areas should already be fairly clean, You'll be six steps ahead right off the bat!
LIGHTS
If you are in an area where you can keep your pond running, check all your lights before it gets too cold to get in the water.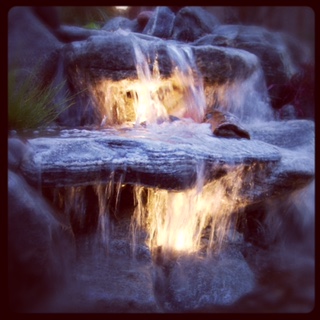 Shorter days mean more evening hours of pond adventure, lights make a world of difference. Especially if it is already dark by the time you get off work, and night time is the right time for you to view your pond.
If you wait until December, even a wet-suit may not be enough to get you to crawl in that frigid water!
For daily pond pros tips follow us on SnapChat, FaceBook, Instagram, and Twitter
Life is Short, Enjoy Koi!
Eric Triplett
The Pond Digger
Connect with The Pond Digger:
The Pond Digger on Facebook: www.facebook.com/theponddigger
The Pond Digger on Periscope: www.periscope.tv/theponddigger
The Pond Digger on Instagram: www.instagram.com/theponddigger
The Pond Digger on Pinterest: www.pinterest.com/theponddigger
The Pond Digger on Twitter: www.twitter.com/theponddigger
The Pond Digger on Youtube: www.youtube.com/theponddigger
The Pond Digger on Snapchat: www.snapchat.com/add/theponddigger