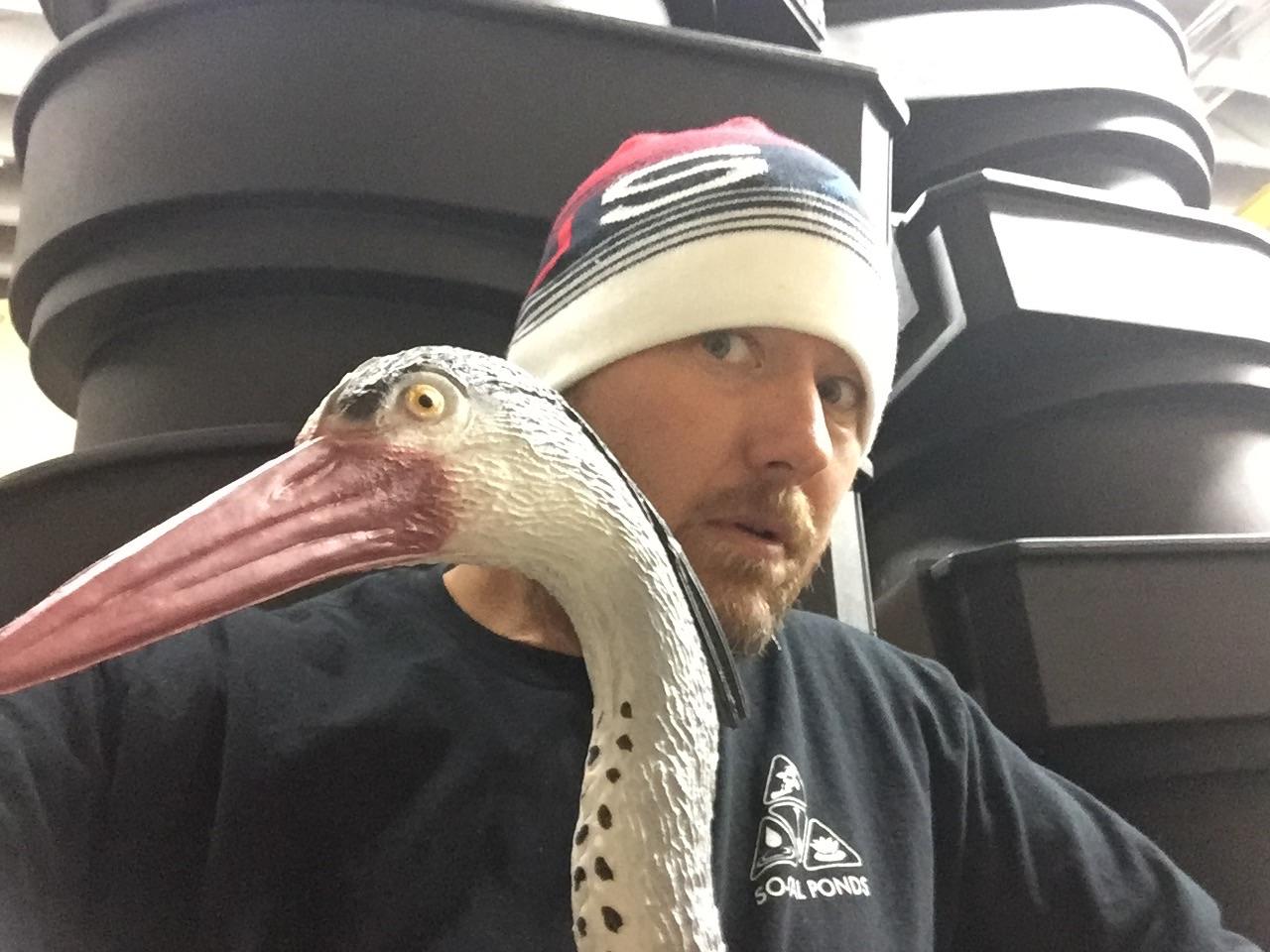 The name "Heron" evokes many emotions from pond owners, and none of them are good. They can range from devastation to hatred due to the loss of their beloved koi collection! Here's a few tidbits to help you beef up your anti-heron arsenal, because we know, "Knowledge is Power" and this is one smart bird.
Herons can live up to fifteen years, reaching four and a half feet tall, with a six foot six inch wingspan.
They lay as many as 7 eggs annually, continually re-populating your neighborhood with new offspring to consume your precious koi!
They are absolute Pro fishermen.  They earn their living hunting dark colored, (well disguised), super fast, fish from dark, murky waters in the wild.
Imagine their sheer joy when they discover your CLEAR pond water filled with BRIGHTLY colored, slow moving (compared to their wild counterparts)  koi and goldfish!
It's literally like spearing fish in a barrel.  Remember the old adage, "Keep your friends close, and your enemies closer"?
The more you learn about Herons, the more likely you'll be able to outsmart them.  Here is what herons know about your pond, that you never knew they knew.
#1.  MEAL PLANNING
They know where their next meal is coming from.  That 15 year lifespan is important because once they learn your pond's location, each time they migrate through your area, every spring and fall, like Arnold Schwarzeneggar, they WILL be back.
For the next FIFTEEN years, your pond is on their flight plan.You can take extra precautions during these seasons to help prevent loss
#2. FULL MOON MADNESS
Herons are typically crepuscular, stalking your koi only in the early morning hours and at the failing light of dusk, but 3 days a month, they can eat your koi ALL NIGHT LONG!
When the moon is full, and the nights before and after the full moon, there is enough light for that ultra-determined predator to wait until you are tucked in before stealing your family jewels.
#3.  FEEDING YOUR FISH
This is the most incredible factoid that will shock, and maybe even disgust you.
Herons are smart, you know that, and patient, standing for hours at the pond's edge waiting for the koi to get comfortable enough to swim near their scary shadow, but did you know they will FEED your koi?
Thats right, those genius predators know that if they regurgitate in to your pond, the fish will come running to that smell, because of course just like in a heron's belly, the main ingredient in koi food is FISH!
Your darling babies, so well trained to come to the smell of koi food, will literally come RUNNING to heron barf.
PREVENTION
There is no 100% way to insure you koi are safe, unless you fully enclose your pond, but here are a few tricks to try:
A scarecrow; a motion sensor sprinkler that shoots the heron, and anyone else approaching your pond, with a harmless, but SCARY stream of water.  Change batteries MONTHLY!
Netting over your pond.  Helps keep out leaves too! Fishing line in a pattern over the pond, or as a trip wire around the pond.
Trees, shade sails, or a gazebo creating a safety canopy over the pond
Hotwire around the pond-shocking but not deadly
Heron statue-used to establish "territory claimed"- needs to be moved several times a week to replicate live birds.
Dogs- VERY effective deterrent, especially bird dogs!