The 4 x 4 x 48 is coming soon!!  What is it, you ask?  This is a grueling two-day challenge that Eric Triplett and Kathy Jo Ferreira take on as a fund raising event for The Pond Digger Ranch Wildlife Rehabilitation Foundation.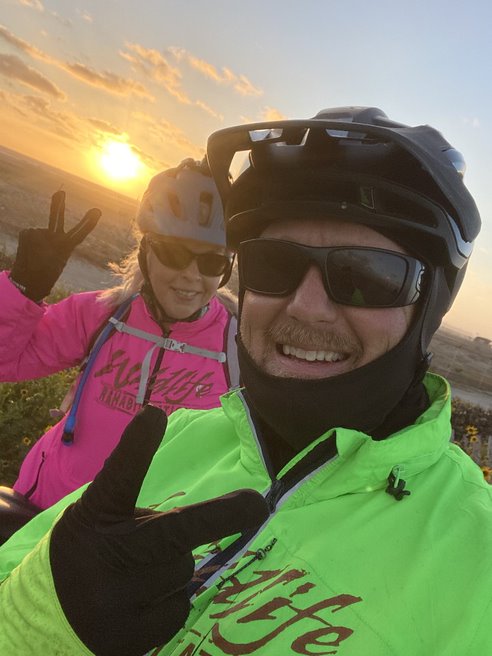 Originally inspired by David Goggin's, people across the country are now joining in this incredible challenge. Goggin's, an amazing story of physical challenge in his own right, decided (for seemingly no apparent reason) that he would run for four miles every four hours for forty-eight hours. Modified now for people with their own physical challenges, you can walk, run, bike, swim, or whatever works for you.
Many fail this incredible challenge, but our daring duo saw it through to the end in 2022 generating over $7,000 for The Pond Digger Wildlife Rehabilitation Foundation! These funds were used to help rehabilitate and return over 300 critters to their wild lives, and help fund the building of the new enclosures for raccoons here at our facility.
Eric and Kathy have a goal to ride their pedal assist bikes for one entire hour in every four-hour block for forty-eight hours. So at 5pm Friday March 3rd, they hop on their bikes and ride for an hour. Then again at 9pm, 1am, 5am, 9am, 1pm, and so on for forty-eight hours!!!
Rain, or snow, (last year was rain AND snow) sunshine, pitch black, whatever the conditions…there is NO BACKING DOWN!!!
Last year, they rode in Palm Springs California, and Huntington Beach to see the sunsets for Friday and Saturday, and topped the peaks at Pisgah and Zanja, for some outstanding sunrises on Saturday and Sunday morning. The rides in between varied from mountain rides to city rides, anywhere they could think that would give them some variety and fun for each hour. (Fun at 1am in the slushy snow???!!!) They completed the challenge by summiting Morton's Peak, claiming the mountain bike trifecta in our region for the win!
They biked a total of 200 punishing miles, in that 48 hour window, just for the heck of it. Sleep was a luxury that was hard to come by, and frozen became the norm for fingers and toes! The last leg of their ride brought them to Hops and Spokes brewery for a celebratory beer and delicious burgers with friends and family. They made it through with smiles on their faces, despite two 1am rides in the wet snow!
The 2023 challenge will be much the same, but with new tracks. While the course they choose may be different, they intend to end the ride again at Hops and Spokes Brewery in Yucaipa, where we would love to see you!  Come celebrate the completion of their amazing challenge of mental and physical strength with us.  Give them a pat on the back and listen to their tales of adventure. 
Last year, they were accosted by puppies, chased by coyotes, got entangled with some wild rats, and saw some amazing sights. Eric crashed at least once, and they even got tattoos in between two of the rides!!!. They can't wait to share the details with you in person!
If you are inspired to complete your own 4 x 4 x 48, we highly encourage it. You can go to www.Gogginschallenge.com for details and listen to our podcast about Eric and Kathy's experience on the 4 x 4 x 48, to get you started. And hey, if you decide to make yours a fundraiser also, Pond Digger Ranch Wildlife Rehabilitation Foundation is always available for your donation consideration.