EXPECTATION, THE MOTHER OF FRUSTRATION
I'm sure you've heard the old adage, "Necessity is the mother of invention" but have you heard the one that says, "Expectation is the mother of frustration"? I heard this one today, and it just cried out to be the title of a blog!
Take a second, and break that down. It is just so true that it almost hurts. Think about the things people expect. You expect accolades for projects at work. You expect your kids to have all the chores done when you get home from work. You expect your dog to poop outside. When you get invited to a party, you take chips, because you expect they will have guacamole. When you put in a fish pond, you expect it to be clean, and clear, and beautiful, with healthy, brilliant fish, begging for food whenever you walk up to the pond.
So, you put in a pond and it is a green, unsightly mess; it's so dirty that you can't even see your fish. You get to the party, there is no guacamole or even salsa, the dog couldn't hold it anymore, and your living room stinks to high heaven! The kids got caught up in their video game, so the dishes are overflowing the sink, none of the laundry is done, and your boss failed to give you a high five for a job well done.
You didn't get what you expected, and now you are frustrated. I get it. And let me say, the last thing I want is for you to expect more than you get out of your pond, and now you're frustrated with it.
It is important to lay out all of your goals, and expectations so that you can get everything right the first time, and not get frustrated. You need to decide if you want koi, or goldfish, game fish, turtles, frogs, or even just lilies. The environments for each are different, and if you set up a pond for koi, and then try to put game fish in it, you will end up being severely frustrated. The fish will not have the proper hiding places, and because they are so territorial and aggressive, they will end up fighting until they are battled scarred and tattered.
Just like any other project, all the way back to junior high, when you had to write a paper, you need to start with a brain dump, and then see what your dream pond really is. Once you start throwing ideas on paper, you may surprise yourself.
Maybe you want oranda and ryukin goldfish. They want much softer currents than koi, so the filtration needs to be set up differently than a koi pond would be. Maybe you need floating steps, or a shallow area for your dogs to stand in. Perhaps you see formal concrete walls, with symmetrical lines, and Italian statues.
Decide on all the attributes you want, then choose the type of fish you will house, or maybe even no fish at all, and those will be the first steps in determining the filtration you will need, to ensure that your pond is everything you expect, and never a point of frustration for you.
If you are unsure how to select filtration. Shoot us an email. We are happy to help you choose the correct filtration for your dream pond from our selection of equipment. We can help ensure the best flow with your layout, turns per hour with proper pipe and pump sizing, and the right size filter for not just the pond, but the livestock you want.
Check out The Pond Digger podcast episode 02 – 1 Pond Pro Tipe To Transform Your Koi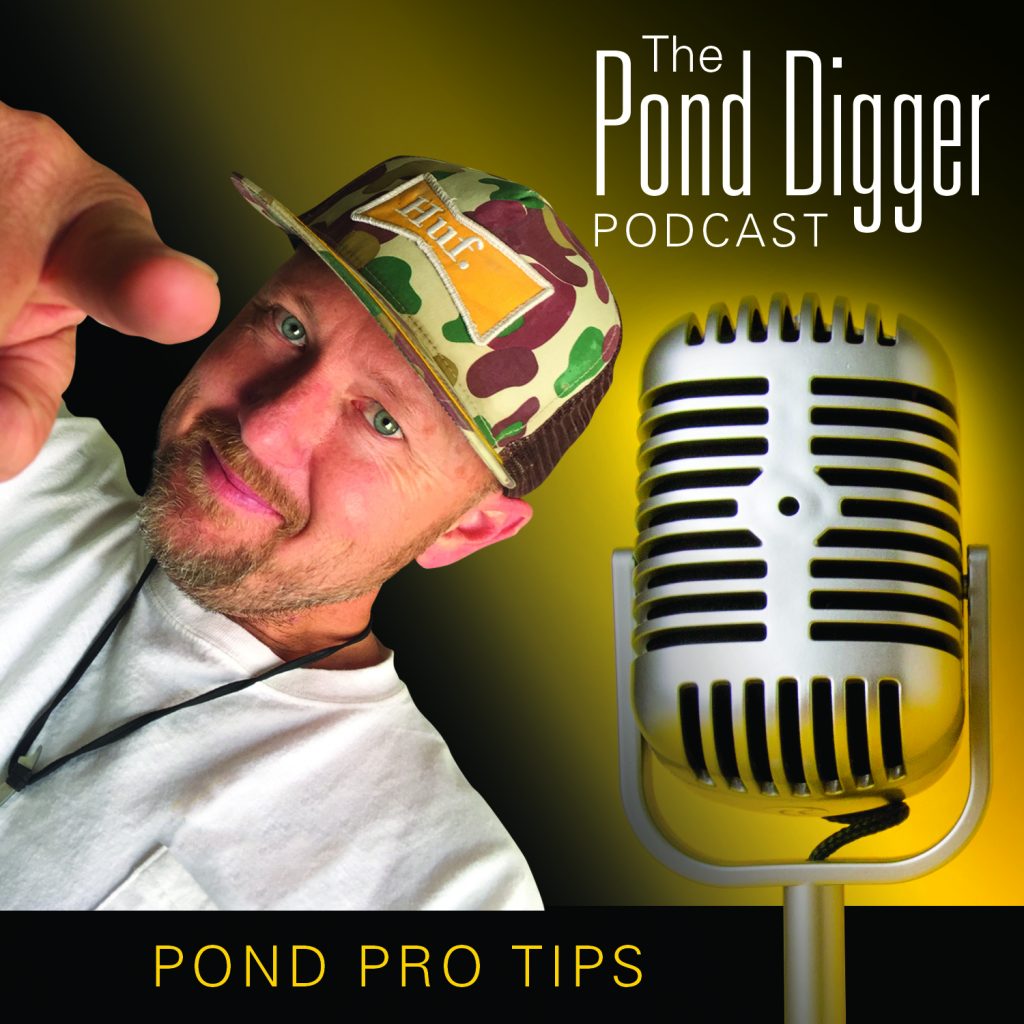 Listen Now On iPhone, Spotify, or Stitcher
Please Rate, Review, and Subscribe!
For daily pond pro tips follow us on Instagram, Facebook, SnapChat, Twitter, and iTunes where you can catch the podcast
Connect with The Pond Digger:
The Pond Digger on Facebook: www.facebook.com/theponddigger
The Pond Digger on Instagram: www.instagram.com/theponddigger
The Pond Digger on Pinterest: www.pinterest.com/theponddigger
The Pond Digger on Twitter: www.twitter.com/theponddigger
The Pond Digger on Youtube: www.youtube.com/theponddigger
The Pond Digger on Snapchat: www.snapchat.com/add/theponddigger