DIY Pond Building Clinic – Weekend Warriors Wanted
If you're a DIY Weekend Warrior here is your chance to get your hands dirty and work side by side with Eric Triplett and his Rocking Construction Crew at our DIY "Pond Building" Clinic!
If you're in the middle of building a pond, already have a pond or thinking about building a pond, this DIY CLINIC is perfect for you!
You'll Learn –  "What TO Do" and we'll teach you "What NOT To Do"! You'll even learn some things that you had no idea you needed to do!
This is a "Boots On the Ground", "Hands in the Dirt", DIY POND BUILDING CLINIC. We will be installing a 7' x 9' Helix Eco-System Pond from start to finish all in one day!
Learn Proper Excavation & Backfill Techniques to save you time and labor
Learn How to Size Your Plumbing and Pump for a Dynamic looking waterfall
Learn Rules of Composition in Waterfall Construction
Learn Waterproofing and Seals so your pond Doesn't LEAK!
Learn How to Repair a hole in Pond Liner!
Learn How to Layout and I'm NOT talking about in a Bathing Suit!
Learn Pond Design for Maximum Impact!
Learn Natural Edge treatment to disguise unsightly wrinkles in pond liner!
Learn How to Choose the Best Aquatic Plants for your Pond!
Learn How to Install Underwater Lighting in the Daylight!
Learn how to Move Rocks and Not Need a Chiropractor when you're done!
This DIY Pond Building Clinic is Open To The Public! Weekend Warriors are Needed and Contractors are Welcomed!
WHEN
Saturday, July 21st 2018 8 am to 4 pm
WHERE
J & K Aquatics
507 E. 6th Street
Beaumont, California 92223
What is the FEE? The fee is simple and affordable considering this DIY CLINIC can literally save you thousands and thousands of dollars.
The DIY CLINIC entry fee is FREE. All we ask for is a "word of mouth" social media SHOUTOUT!
Share a photo from the event on your Instagram page, hashtag #DIYPONDCLINIC on all your social media platforms, Instagram, SnapChat, Facebook, Twitter, E-Harmony, Tinder, or whatever you're into these days!
Just tell your friends about The Pond Digger DIY Pond Building Clinic and our mission to help the world build beautiful ponds! Tell two friends that will tell two friends and so on………
WHAT TO BRING –
Your favorite shovel, gloves and work boots if you want to get dirty. Bring a chair, camera, video recorder, friends, family members and your dog. You can schedule to have your dog groomed while we work at this event!
Bring photos of your ponds, goldfish, aquatic turtles and koi to share with other pond enthusiasts! Bring sunscreen and a big brimmed hat or an umbrella to avoid a sunburn or the rain. Ultimately we want you to bring your passion for waterscapes!
LUNCH –
We will be providing food and beverage at the event!
WIN FREE STUFF!!!
We will be calling off a raffle every hour on the hour! Win FREE STUFF like Aquatic Plants, Professional Strength Water Treatments, T-shirts, Koi Food, A Helix Pond Skimmer and much, MUCH MORE!
DIY CLINIC SPONSORED BY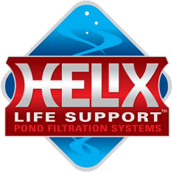 Helix Life Support Pond Filtration Systems
Life is Short, Enjoy Koi!
Eric Triplett
The Pond Digger
Connect with The Pond Digger:
The Pond Digger on Facebook: www.facebook.com/theponddigger
The Pond Digger on Periscope: www.periscope.tv/theponddigger
The Pond Digger on Instagram: www.instagram.com/theponddigger
The Pond Digger on Pinterest: www.pinterest.com/theponddigger
The Pond Digger on Twitter: www.twitter.com/theponddigger
The Pond Digger on Youtube: www.youtube.com/theponddigger
The Pond Digger on Snapchat: www.snapchat.com/add/theponddigger