[huge_it_video_player id="2″]
3 Beautiful Ways to get Hummingbirds to Your Yard in DROVES
Who doesn't love a colorful, friendly hummingbird, flitting in and out of your garden? And, yes, I did say friendly. Provide a happy habitat for them to hang out in, and they will get to know you. They actually become down right NOSY! I have one in my yard that follows me around as I do my outside chores, buzzing along just above my shoulder, checking out everything I do!
If I pick up a hose to water some plants, he's right in the stream, drinking some fresh water. I think that may be his true goal, but I'm still not sure.
WONDERFUL WATER
Hummingbirds love running water. They much prefer it to standing water. They are quite particular when it comes to the freshness of their water!
Water is critical for small birds to stay hydrated, and because of a hummingbird's extremely fast metabolism, they need constant access to drinking water.
Provide them a gently cascading waterfall, or a pot with water flowing out the top and down the sides. They love not only to drink from these gentle cascades, but they also love to bathe in them.
Hummingbirds love to be clean and fresh and will bathe daily if given the right water flow, and there is almost nothing as cute as a tiny hummingbird bathing in your water feature.
BITTY BUGS
Hummingbirds also eat a surprising number of insects every day, including mosquitoes. If you include some plants that produce fruit that will attract insects, like fruit flies, hummingbirds will flock to your yard in droves. You can also put over ripe bananas out in a shallow dish to attract fruit flies.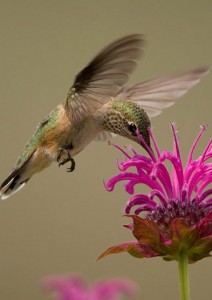 Hummingbirds will consume twice their body weight daily in food, and up to eighty percent of this can be insects. That is a LOT of little bitty bugs.
FRAGRANT FLOWERS
Hummingbirds can be easily attracted to your yard by adding the right plants for them to feed from. They can be lured to stay by adding the other key components to make your yard a haven for them.
Here is a list of plants that hummingbirds are attracted to. Please research each plant before placing in your yard because some of these plants get HUGE!!
Happy planting!
Ajuga
Bee Balm
Begonia
Bleeding Heart
Butterfly Weed
Canna
Cardinal Flower
Century Plant
Columbine
Coral Bells
Cleome
Crape myrtle
Dahli
Dame's Rocket
Delphinium
Fire Pink
Four O' Clocks
Foxglove
Fuschia
Gilia
Geranium
Gladiolus
Glossy Abelia
Hollyhocks
Impatiens
Iris
Lantana
Liatris
Lily
Lupine
Nasturtium
Nicotiana
Paintbrush
Penstemon
Petunia
Phlox
Sage
Salvia
Scabiosa
Scarlet Sage
Sweet William
Verbena
Yucca
Zinnia