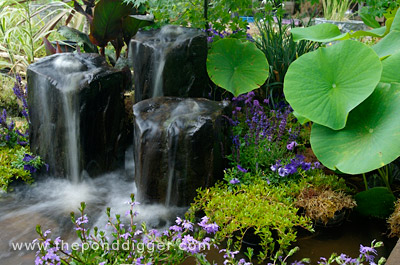 Rock Column Fountainsare growing in popularity because a rock fountainprovides homeowners with all the benefits of a customary water feature including both audio and visual attraction with extremely low maintenance.
The Pond Digger Rock Column Fountains are extremely unique by design and deliver more than just bubbling water. Our Custom Rock Fountains are designed for water to fall with expression, for a more serious statement, to disguise the sounds of your busy neighbor hood or can be calculated with an elegant soothing tone for a more tranquil setting.
The waterscapes can be a single solitary rock water feature or better yet, can be grouped with multiple rock fountains or specimen stones, creating well balanced column composition with charismatic fountain formations in your landscape. Our fountains are so versatile by nature; we can design a waterscape rock column formation that fits into any landscape situation. Rock fountains create wonderful curb appeal with zero liability in front yard landscapes because there is no standing water and provide the soul soothing tranquility in backyard living spaces, too.
Both, naturally sporadic formations or symmetrical formal features can be designed & integrated into a standalone waterscape, disappearing water feature or can even spill into a water garden or Koi pond. Our fountain waterscapes can be worked into a centerpiece of a driveway or turned into a stream that meanders down a babbling brook on your property before disappearing into a bed of ornamental gravel.
When Low-Voltage Underwater lighting is integrated into the installation of these specialty water features, your enjoyment of the waterscape can be extended into the evening hours. Wonderful shimmering light effects can be cast into your landscape backdrop with the perfect positioning of your underwater lighting system. The low-voltage underwater lights are set up on transformer with a photo cell which turns the lighting unit on automatically when the sun goes down.
The Pond Digger Rock Column Fountain waterscape systems are comprised of the most naturalistic simulated rock on the market today.
Each sculpture is a hand crafted one of a kind piece of art. Our hand crafted work is both durable & sturdy enough to stand up to the most extreme outdoor conditions from below freezing to the triple digit heat waves of the deserts.
Our fountain formations are installed above a reservoir basin where an energy efficient recirculation pump delivers water to the top of each rock and cascades with the effects of a waterfall and disappears into a bed of ornamental gravel in a pondless environment, stream, waterfall or pond.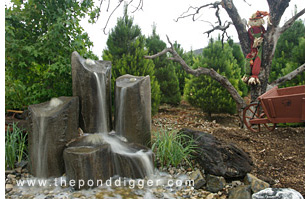 When our rock sculptures are installed as a disappearing pondless waterscape, maintenance of these features can be reduced to a minimum by the installation of an automatic water fill system that replenishes evaporated water. The feature can be installed with a timer that automatically turns the feature on and off according to your schedule or a remote control can be installed so you can control the waterscape from inside the comfort of your home. No sense running the feature when you're not home.
Install the rock column fountain set on a timer or remote and the cost to run this wonderful water feature can be as low as fifty cents a day. When set on a timer the brilliant color of the dry rock will be rejuvenated each day by the sun. These fountains can certainly run 24 hours a day to extend your enjoyment of the waterscape, especially if the feature is installed in a commercial setting or if the waterscape is installed close to your bedroom window. Imagine, falling asleep each night to the wonderful melody of falling water. A constant flow of running water over our rock fountains easily cloaks undesirable noise of a busy street or neighborhood, while embellishing your landscape with a one of a kind piece of art with both motion and sound.
We offer Professional Installations and Do-It-Yourself Fountain kits with assistance in both design and construction. Most installations can be done as quickly as one day, with little to NO disruption to existing landscape.
---
Rock Column Fountain Kits
The Pond Digger Brand Rock Column Fountain Kits come with all the accessories you need to build yourself a one of a kind waterscape fountain display. Each individual Rock Column is hand crafted and custom designed, not molded to match 100's of others! These rock fountains are light weight for ease of installation but heavy duty enough to give your water feature stability and a nice visual impact.

We love the look of real basalt rock fountains but seriously don't miss the back breaking work of lifting the dense heavy stone. Then once you have Basalt Rock Columns in the air you need to pour a footing to keep the column stabilized and still don't have a good idea how the water will move and flow off the top! Our Rock Column Fountains do not need a footing for stability once standing and better yet, by design we can predict and direct the water spilling off the stone exactly as we desire.

| | |
| --- | --- |
| Small Rock Column Fountain Kit (3 Piece Design) |   Call for Pricing |
| Medium Rock Column Fountain Kit (3 Piece Design) |   Call for Pricing |
| Large Rock Column Fountain Kit (3 Piece Design) |   Call for Pricing |

800-522-5043
---
For more information on our Rock Fountains call us at 800-522-5043.