Understanding Pond Turtles and their Funny Habits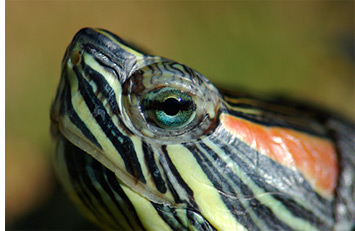 Aquatic plants, aside from their beauty, are an important element in any waterscape ecosystem. However, water turtles are omnivorous and like to eat vegetation, too! Here is where you have to pick your battles. When designing a pond for turtles the number ONE priority must be the turtle, while aquatic plants that thrive are just a bonus!
I'll share with you the story of when I purchased this rare water lily, named "Albert Greenberg," several years ago, with a C-note as the price tag. Well, I placed this very expensive water lily ever-so carefully into my pond, which housed "Terry the Turtle," and daily observed the first bud of this magnificent aquatic plant inching its way towards the water's surface.
Finally, the day was so close that I could taste it! By the next day, this rare lily would grace my pond with the very first flower! I remember heading to the pond that anointed day, and, as soon as I had made the turn, with the pond in my line of sight, my stomach sank as I noticed the unopened bud in Terry the Turtle's mouth! If you could have seen his face -- and mine -- as he ate my treasured, water lily bud, you very possibly would have lost your mind laughing!
Fish also are an important element for a working ecosystem, but, once again, remember water turtles are omnivorous creatures. If you keep turtles well fed, it is unlikely that they will hunt down your fish and EAT THEM, but it has been known to happen. One of my long-time customers had a turtle pond that was home to dozens of amazing fish and one plumb, adorable Red Eared Slider! He swam around with the group of fish like he was just one of the gang, never nipping at a single fish.
Come feeding time, he would be right up in the middle of the group begging for tasty turtle pellet morsels and, of course, the Koi food, too. The problem was, as he swam next to the fish frenzy, he would on occasion unintentionally scratch his pond mates to the point that several of his scaled buddies had scars on their flanks from feeding next to the turtle. Keep this in mind, as a pond turtle will offer cons, along with his numerous, adorable pros! When designing a pond for these amazing reptiles, note that the Red-Eared Slider, along with other water turtles, may grow up to be one-foot-long. Females tend to be larger than the males. Because of their ultimate size and attendant food consumption, these turtles require a filtration system to remove their waste products as they prefer pristine water quality.
They also need plenty of room for long-distance swimming, which they very much enjoy. Providing them with an environment with room enough to move around will help increase their chances of living in captivity up to age 40!
Make these elements that we have reviewed here a part of your turtle pond design; by doing so, these creatures will reward you for decades with their charm and captivating personalities. Be prepared because they will steal your heart away, along with those of your family and friends!