365 POND TOUR® EXPERIENCE DISPLAYS YEAR ROUND!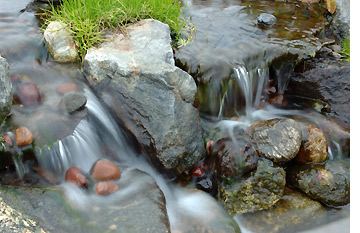 You have just officially been invited to the original, one of a kind 365 Pond Tour® Experience! What exactly is the 365 Pond Tour® Experience? Well let me tell you, 365 days a year most of these waterscapes and ponds are on display, open to the public. That's right, stop by when it's convenient for you, anytime of the year, in some cases day or night!
If you live in California, this unique waterscapes pond tour is the ultimate testimony that we have to offer. If you are looking for pond design concepts or ideas for your backyard waterfall, if you what to see for yourself what a pondless waterfall looks like as it disappears into a gravel basin or inspect some of our pond construction sites at your leisure, then the 365 Pond Tour® Experience is perfect for you.
We already, promote one or two major pond tours a year and yet, it's still not enough! We constantly get phone calls asking for the date of our next pond tour. So, to solve the problem we officially launched what will certainly go down in the books as the Worlds Longest Running "Waterscapes Pond Tour!" It all began on January 1st 2005, and for 24 hours a day, 7 days a week, 365 days a year, and to the end of time, we are offering beautiful display ponds and waterscapes for your viewing pleasure.
These ponds, pondless waterfalls and waterscapes on display are located at businesses in California, that participated in our Pond Construction Seminars. You can still look forward to our Spring, Summer and Fall waterscape Pond Tours that offer a special look into private residential backyards, schools displaying other waterscapes and backyard waterfalls that aren't normally open to the public! Feel free to call our pond construction headquarters for more information. Have a blast and give us your feedback when you stop in and visit our showroom in Yucaipa, California.
CALIFORNIA WATERSCAPES POND TOUR ETIQUETTE
Please do not upset landscaping in or around the waterscapes, ponds or pondless waterfalls.
Please leave things exactly as they were before you arrived.
Please do not pick up anything (i.e. rocks, plants, wildlife, etc.)
Please do not throw anything into the ponds, pondless waterfalls or waterscapes.
Please do not feed any of the animals that you come across.
Please help your children to understand the above etiquette.
365 POND TOUR® EXPERIENCE DISPLAY LOCATIONS
YUCAIPA, CALIFORNIA
Exotic Waterscapes & The Pond Digger Headquarters
31710 Dunlap Blvd.
Yucaipa, California 92399
We have over a dozen water features on display for you to learn from! Stop in and take home some water feature inspiration, pond supplies, koi fish, aquatic plants and yard art. We have on display rock fountains, waterfalls, hybrid ponds, koi vats filled with beautiful Japanese koi fish, pondless waterfalls, a fire & water displays and so much more!
Sunshine Growers
34017 Yucaipa Blvd.
Yucaipa, California 92399
Waterscape Feature One: On June 4, 2005, we built this pond during a community Pond Construction Seminar. The special pond event was significant for our organization, Exotic Aquatics and The Pond Diggers because it marked our five-year anniversary of presenting these Pond Construction Seminars, that are open to the public. Our inaugural Pond Construction Seminar was conducted at Newell Nurseries in 2000. That original waterscape was dismantled when the nursery's parking lot was enlarged. The new 10′ X 14′ pond features a double-wide waterfall with an 8′ stream, and is located adjacent to the Newell's new English-style greenhouse. Newell's Nurseries feature 4.5 acres of acclimatized nursery stock, plus distinctive giftware.
Pondless Feature Two: This cute disappearing pondless waterfall is on a completely flat grade butted up next to a greenhouse. With only a small 16î tall waterfall it give the effect of a living stream rather than waterfalls. This waterscape proves you don't need a tall waterfall to have the impact that sound of water has to offer. This disappearing pondless waterfall is also from the fruits of labor provided by the community in the form of a Pond Construction Seminar. If you are in need of pond design ideas, examples of what a disappearing pondless waterfall for your backyard waterfall could be like, a wide variety of landscape plants and a gift for your wife, you can find it all at Newell Nurseries in Yucaipa, California.
Leroy's Landscape
32423 Yucaipa Blvd.
Yucaipa, California 92399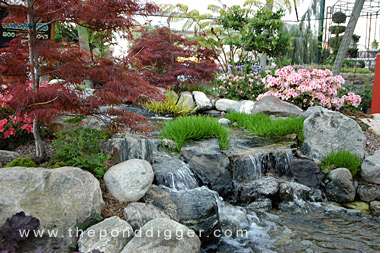 This waterscape was originally a Pond Construction Seminar built in 2003. Look for the pond's multiple falls, which were designed to be visible from Yucaipa Boulevard. This waterfall was redesigned (possibly an understatement) in an Advanced Waterfall Construction Seminar early in 2004. 6′ tall and 6′ wide, need we say more? Drive by in the evening for a nice visual display of fiber optic lighting and nightscape lighting.
Additionally, we installed a disappearing pondless waterfall that gives the illusion that another waterfall spills out of the original pond and works its way throughout the landscape and disappears just before the sidewalk. This pondless waterscape practically runs onto Yucaipa Boulevard. Of course since this is a landscape service company, these waterscapes and landscape is usually splashed with colorful annual flowers.
REDLANDS, CALIFORNIA
San Bernardino County Museum
2024 Orange Tree Ln
Redlands, California 92374
This pond has a special place in my heart because when I first dove into building ponds exclusively I toured the Museum and saw a sign that said, "Future location for our pond". The sign was in front of the Discovery Hall, now named The Exploratory Center, and had obviously been there for a long time. When I enquired about the sign no one even knew what I was talking about!
It was apparent to me they need my help. I then decided to donate the water feature to the museum as a way to give back to my community. We built them a 10′ x 14′ pond with a small waterfall that sets the entry to the Exploratory Center off! Stop by and visit the water feature and see what other exciting things the San Bernardino County Museum has to offer.
Century 21 Lois Lauer Reality
1998 Orange Tree Lane
Redlands, California 92374
This disappearing pondless waterfall was built in a Pond Construction Seminar on November 12th, 2005. We had a good turn out that day and built this great waterscape in only five hours! This pondless feature has a 2′ tall waterfall and a 20′ long meandering stream that disappears just before the side walk.
Whether you are looking for a residential or commercial property, Lois Lauer Reality is a fantastic resource to turn to. As one of only three dedicated commercial/industrial brokerage companies whose headquarters are located within the city limits of Redlands, California. They have had extensive experience in working with the various City agencies, and are well acquainted with the staff, City Council members and Mayors of the Inland Empire cities and communities. Stop by and see this waterscape anytime on our 365 Pond Tour!
University of Redlands
The LaFourcade Garden
1200 E. Colton Ave.
Redlands, California 92374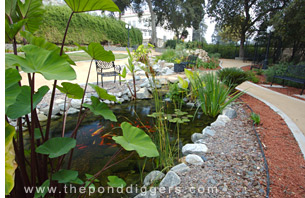 This 11 x 16 pond with a 50′ long stream, believe it or not, was built in one day at a Pond Construction Seminar in early 2004. The Pond Construction Seminar was a kick off point for this once lost location on campus. Weeds once ruled this area and now as you can see for yourself, it is a park-like setting established for events with decomposed granite pathways, vegetable gardens and groomed flowerbeds and lawn.
"The LaFourcade Garden offers students, faculty and community members a quiet place to gather," said Tony Mueller, director of Community Service Learning. It's named in honor of Ron LaFourcade, who passed away last year and whose family includes several Redlands alumni.
Casa De La Vista
686 E Redlands Blvd
Redlands, California 92373
This waterscape was built by as a Pond Construction Seminar. This water feature is an 11′ x 16′ pond with a small 6′ stream that brings the whole courtyard alive and is strategically placed next to a fine picnic area. This is a Tranquility Pond for the retirement center.
RIVERSIDE, CALIFORNIA
Sims Tree Learning Center
111 Appaloosa Ave.
Pedley, California 92346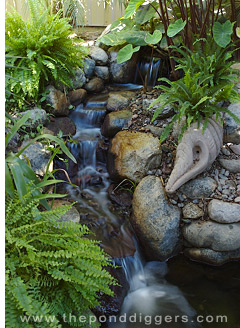 This is a wonderful place to stop on the 365 Pond Tour. Not only will you find two ponds on this property, but you will also see several different amazing gardens, rare palms, cycads, fruit trees and even draft horses. Sims Tree Learning Center is open Monday through Friday but is a private business so I recommend that you call ahead of time to be sure they are taking visitors. Sims Tree Learning Center hosts several horticulture events each year and has an specific Open Gardens each month where they are open all day and open to the public.
Waterscape Feature One: This waterscape is a small Tranquility Pond that is no bigger that a 5′ x 7′ with a small hillside stream that delivers lots of sound for the offices that are close by. This small pond houses some cute goldfish, is located in a heavily shaded area surrounded by palms, ferns, bromeliads and other exotic plants.
Waterscape Feature Two: This is an 11′ x 16′ pond with a small meandering stream that is in a conservatory greenhouse setting. You will be introduced to a wide variety of exotic plants that you will not find anywhere else locally. Just recently we returned for a photo shoot and we were amazed by the many varieties of orchids and other exotics. Just imagine taros six feet across, a tropical water lily that covers the entire waterscape, tropical humidity and flowering orchids greeting you while you step across the threshold from Riverside into a tropical paradise!
LOS ANGELES, CALIFORNIA
Los Angeles Zoo
5333 Zoo Drive
Los Angeles, California 90027
Our construction team played a role in the construction of the large waterfall in the Elephants of Asia Pachuderm Forest. It was years in the making and we are honored to have played a role in the construction of the amazing exhibit!
PALM SPRINGS, CALIFORNIA
Aunt Effie's Garden Center
2393 North Palm Canyon Drive
Palm Springs, California 92262
This is an above ground garden pond to entertain and educate kids. This is a 10′ x 14′ pond only 18 inches deep and stays crystal clear even in wonderfully warm Palm Springs temperatures due to the excellent balance of a natural ecosystem. A Tranquility Pond for the kids.
IDYLLWILD, CALIFORNIA
Silver Pines Lodge
25955 Cedar St
Idyllwild, California 92549
This large water feature is set in the woods of Iydlwild. It is bigger than 16′ x 21′ and has approximately 25′ to 30 foot of streams with multiple waterfalls. Take a drive up the mountain and fall in love with the water feature and the cozy lodge! Stay the weekend! This garden pond looks amazing year round but is especially breath taking when it is covered in snow. This is a Tranquility Pond for the retreat!